Discover more from Simplanations
Inner workings of business and tech explained in simple words. Join 8,000+ curious readers.
Over 10,000 subscribers
Author's Note
Happy Raksha Bandhan and Bakrid everyone 😀 . Hope you had a great weekend. This SNAP is going out to 2,498 subscribers. Ooooh you see, we need that little push from you. Please do tell your friends about us. But only if you like it. No pressure :P
Also, if you want Simplanations/Snaps on your WhatsApp, click here.
---
India is a tea-drinking nation
For many Indians, every day must start with a hot cup of tea. As per Euromonitor, an Indian consumed 176.6 cups of tea on average in 2015. This is 10x more than coffee which was only 16.6 cups (lol). The total weight of tea consumed in India was over 1 billion kgs in 2019. 🤯
The packaged tea industry in India is worth over ₹12,000 crores ($1.6B) with leading players being Tata Tea and HUL (Brooke Bond and Lipton). Both the companies hold around 21% market share each by the value of tea sold. But there is another lesser-known regional player which gives these brands a run for their money, especially in the western parts of the country - Wagh Bakri.
Wagh Bakri is the third largest packaged tea player in India. Despite not having a national presence like Tata and HUL, it has grown its market share from as little as 3% in 2009 to 10% in 2020. Primarily because of its stronghold in the few states it is present in. For example, it commands over a 50% market share in Gujarat.
The journey of this David growing into a Goliath is a very interesting one.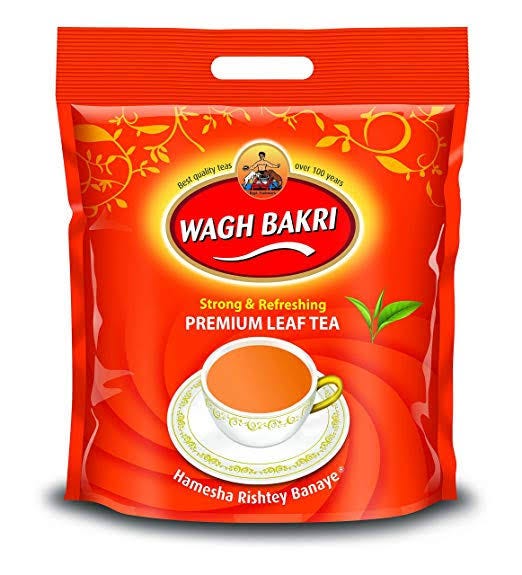 Gandhian beginnings
The origins of Wagh Bakri can be traced back to 1892 when Narandas Desai moved from India to Durban, South Africa. He leased 500 acres of a tea estate there and started managing it. During his time in South Africa, he became close to Mahatma Gandhi, who had a big impact on Desai's business and personal ethics.
In 1915, Desai was forced to flee South Africa because of apartheid. He came back to India with a letter from Mahatma Gandhi vouching for his skills and honesty in the tea business. He was able to get a large loan which he used to establish the Gujarat Tea Depot in 1919. The first store was set up in Ahmedabad and sold loose tea. It was a decade and a half later, in 1934, that Desai started selling the tea under the brand "Wagh Bakri" for the first time.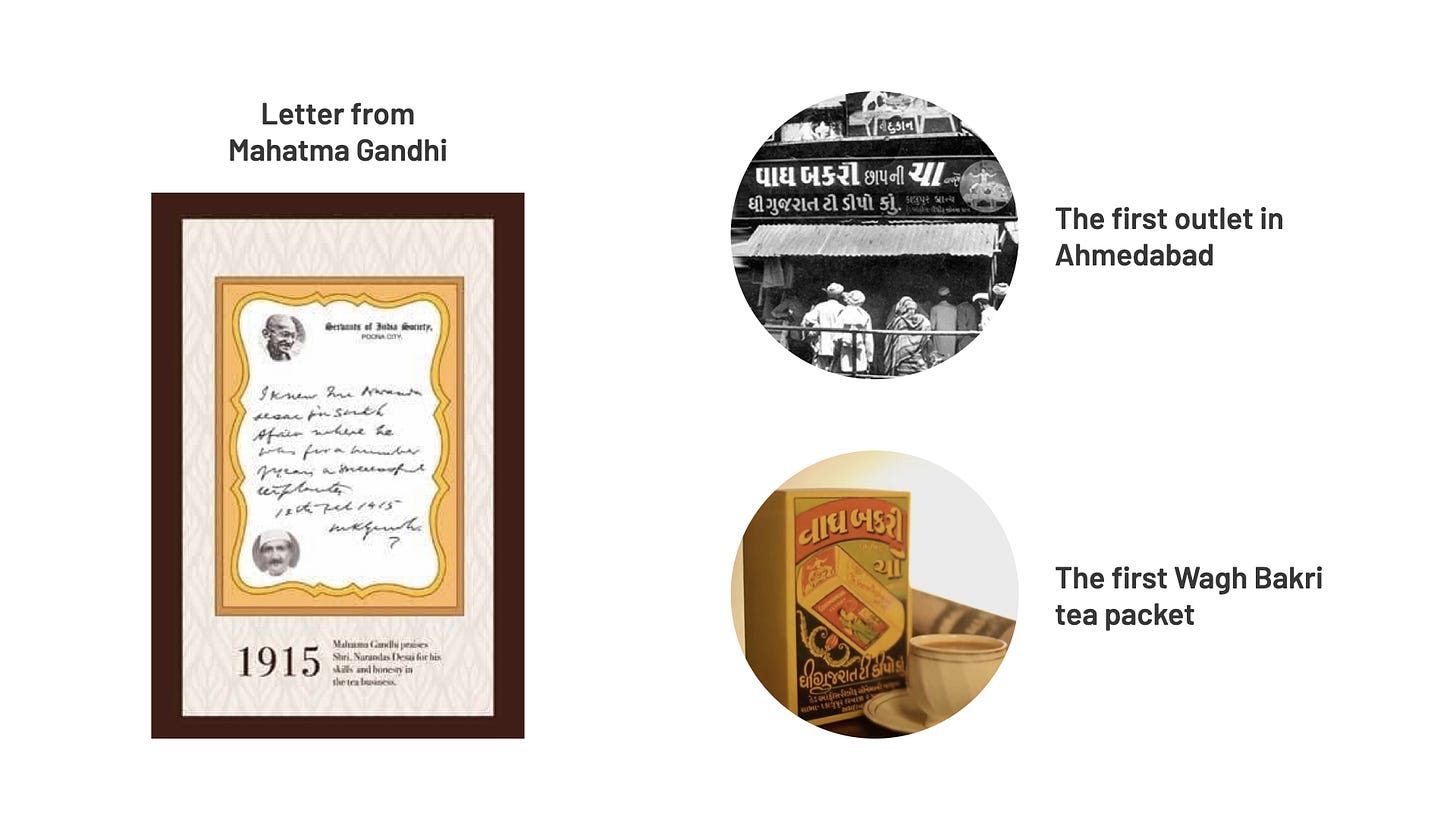 The name "Wagh Bakri" might sound strange when you hear it for the first time. And the logo looks even more strange. But there's a lot of meaning behind it.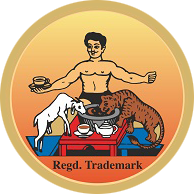 The logo shows "Wagh" (Tiger) and "Bakri" (Goat) drinking tea from the same cup. The tiger symbolizes the upper class of society and goat, the lower class of society. And both are drinking tea from the same cup communicating the Gandhian values of social equality and non-discrimination. At the time of launch, the brand was a protest against what was happening in the country (pre-independence era). Though I'd say the brand values are still very relevant even today.
Fun fact - the logo and the values it stands for has caught the eye of many marketing experts and even finds a mention in the book "Principles of Marketing" by Philip Kotler which is considered the Bible for marketing by MBA grads across the world.
About the business
Wagh Bakri is very selective when it comes to expansion to new regions in the country. The brand invests a lot in research to check the commercial viability of entering a new region. They also understand the consumers' tastes and preferences to offer different blends of tea for every state.
Due to this, they are present only in 13 states, mainly in the western and central parts of India. The brand is strongest in the states of Gujrat, Rajasthan, Madhya Pradesh and Maharashtra. They have recently started to expand to a few southern and northern states.
The brand is known for its high-quality tea and competitive pricing. And it shows in their revenue numbers which touched ₹1500 crores ($200M) last year. They also export to over 40 countries (5% of their revenues) to cater to the Indian diaspora abroad.
The company doesn't own any tea estates to avoid the costs and problem of maintenance. Instead, they focus on only processing and packaging the tea. This has allowed them to stay asset-light (helps a business be nimble), cash-rich and debt-free.
About the products
At present, the company has four brands catering to different customer segments.
Good Morning Tea: Started in 1944, it is positioned for the super-premium segment. It is priced at around ₹550/kg.

Wagh Bakri Tea: This is the most popular product of the company and is positioned at the premium segment. It is priced around ₹430/kg. It contributes to 70% of the company's revenue. Under the Wagh Bakri brand, the company has also recently introduced products like Green Tea, Lemon Tea, Iced Tea and Premix coffee.

Mili Tea: This product is positioned for the middle and lower-tier segments. It is priced at around ₹280/kg. It accounts for 20% of the company's revenue

Navchetan Tea: This is aimed at the economy segment and is positioned against the unbranded tea in the market. It retails around ₹200/kg.
All these products are promoted via ads on TV and print campaigns. The company spends nearly 10% of its revenue on advertising expenses.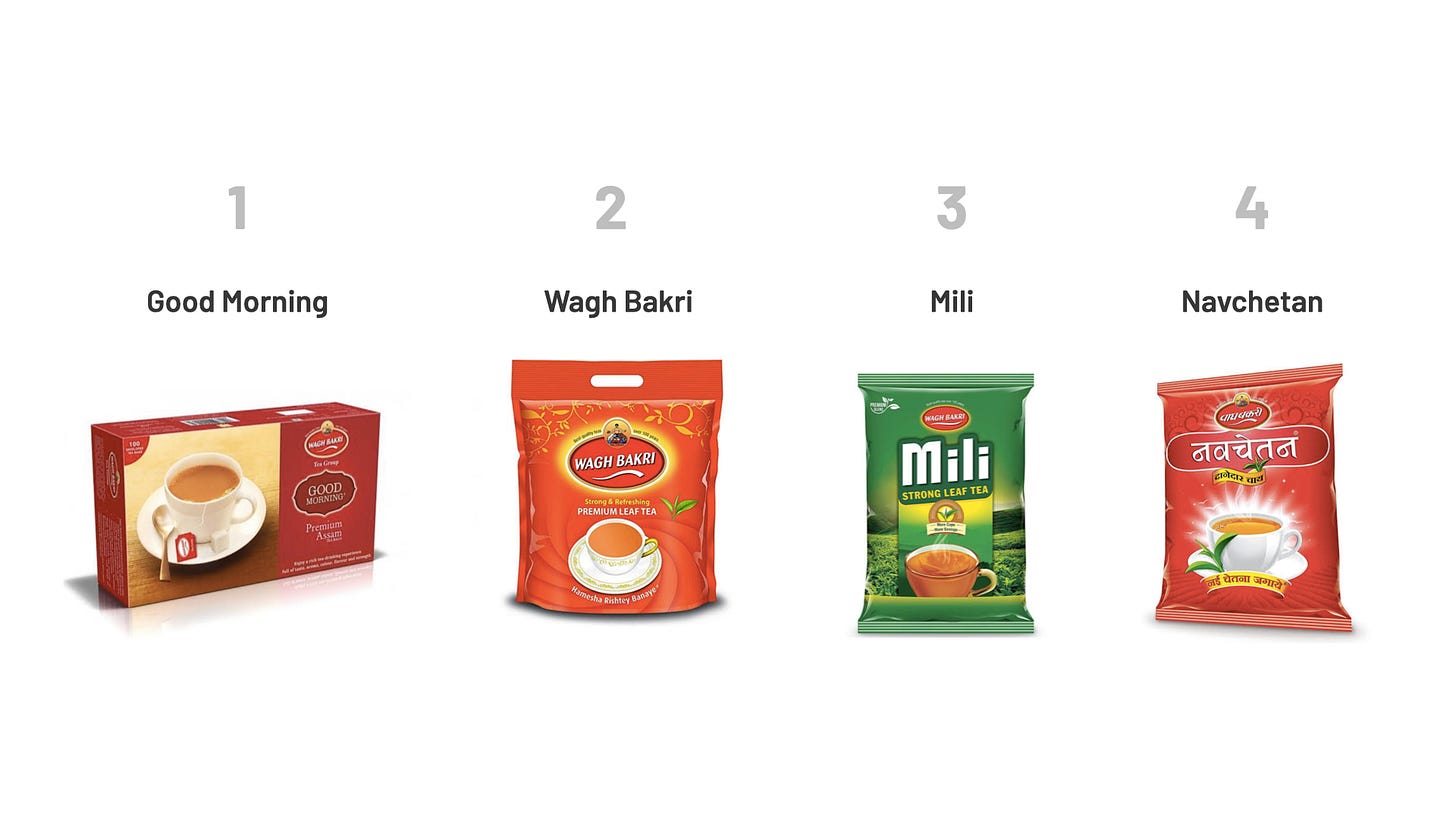 Other business units
Tea Cafes
Much before Chaayos came into the picture with the concept of 'tea cafes', Wagh Bakri launched its first tea lounge in Vile Parle, Mumbai in 2006. An attempt to ride the café culture, these lounges offer a host of beverages including Ice Cream Tea to customers. Today, there are 15 such tea lounges across Mumbai, Delhi, Ahmedabad, Pune and Goa.

Direct-to-consumer
In 2015, Wagh Bakri also launched an e-commerce site (www.buytea.com) to order tea online.
The future
Adored by millions, this 100-year-old company is still young at heart. The revenues have almost tripled in the last 10 years and it continues to give a tough time to the competition. It will be interesting to see how Wagh Bakri expands in coming years to become a national brand. Till then...
---
References