Discover more from Simplanations
Inner workings of business and tech explained in simple words. Join 8,000+ curious readers.
Over 10,000 subscribers
Few readers complained about missing out on our email because Gmail sent it to promotions. Few readers did not want the newsletter on email. So we are launching Simplanations on Whatsapp too.
This is entirely opt-in. If you join, you will be notified on Whatsapp when a new simplanation drops along with a link to the post.

We will be sending only new post updates strictly. No other messages.

Email newsletter will continue as usual. No changes there.
Click here to get Simplanations on Whatsapp
---
Author's Note
The analysis is my simplified understanding of what Jaydeep (Co-Founder, Rebel Foods) has said across different interviews and forums (not my original thought). Also, I am a big fan of their Chicken Tikka wrap, so my opinion might be biased 🙂
The Internet has made significant changes in the dynamics of multiple industries. Amazon changed retail. Airbnb re-imagined hospitality. And Netflix changed video-on-demand. Jaydeep Barman believes that Rebel Foods, the restaurant company he co-founded, will change the restaurant industry. How? By building the world's largest 'internet restaurant company'.
A quick snapshot of Rebel Foods
Rebel Foods was founded in 2011 with a single brand under its hood - Faasos. Over time, the company has grown to different 11 different food brands spread across different cuisines. Faasos and Behrouz are its most famous brands.
The company is backed by marquee names like Sequoia, Goldman Sachs, Go-Jek and Uber co-founder Travis Kalanick. And has raised a total of $330M over the course of its existence.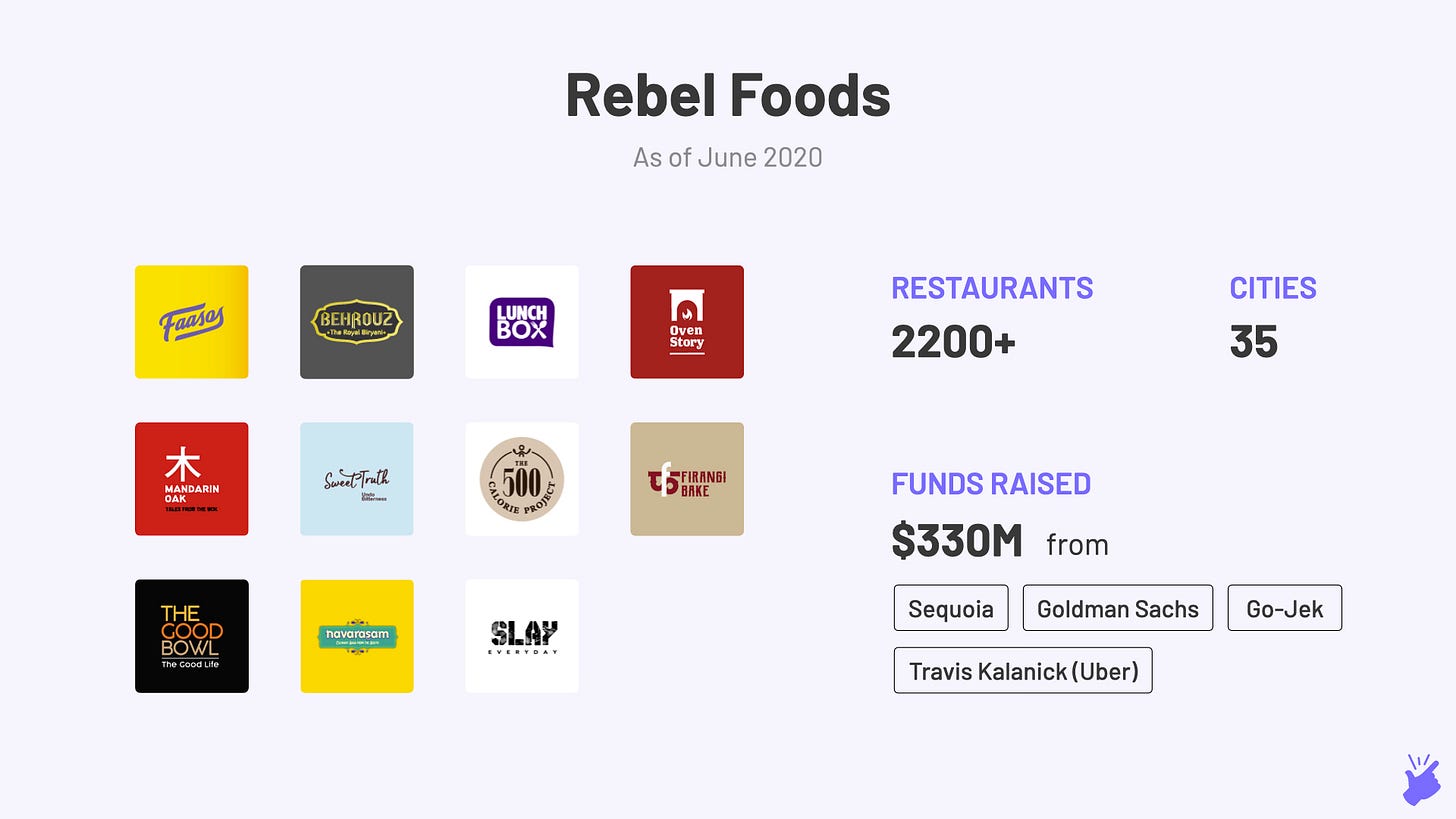 Rebel-lious Streak
In just 9 years, Rebel claims to the largest restaurant chain in India with 2200 restaurants. In comparison, Dominos is the second largest chain with 1300 restaurants and it has been in India for 25 years!
A bulk of this growth has come in the recent past with Rebel adding over 2000 restaurants in just the last 4 years. They also went global during this time launching in UAE and Indonesia and are looking to enter the UK, Brazil, and Saudi Arabia soon.
Now that's a dream run! But a certain pivot in its strategy was instrumental in helping Rebel unlock this unreal growth. In today's piece, we will explore what was that pivot & why did they do it. But to understand that, we first need to look at the business model with which Rebel started.
Rebel
1.0 - Physical Restaurants
Faasos (Rebel) started as a chain of fast-food restaurants (jargonized as Quick Services Restaurants or QSRs). They set up 90 restaurants in a span of 4 years with initial funding from Sequoia. These restaurants typically ranged from 500 to 800 sq. ft. in size with a small cooking area and some space for seating (see pic). They sold wraps and biryanis mainly targeting customers in the age group of 20-35. And were doing annual sales of ₹30cr ($4M) at that point in time.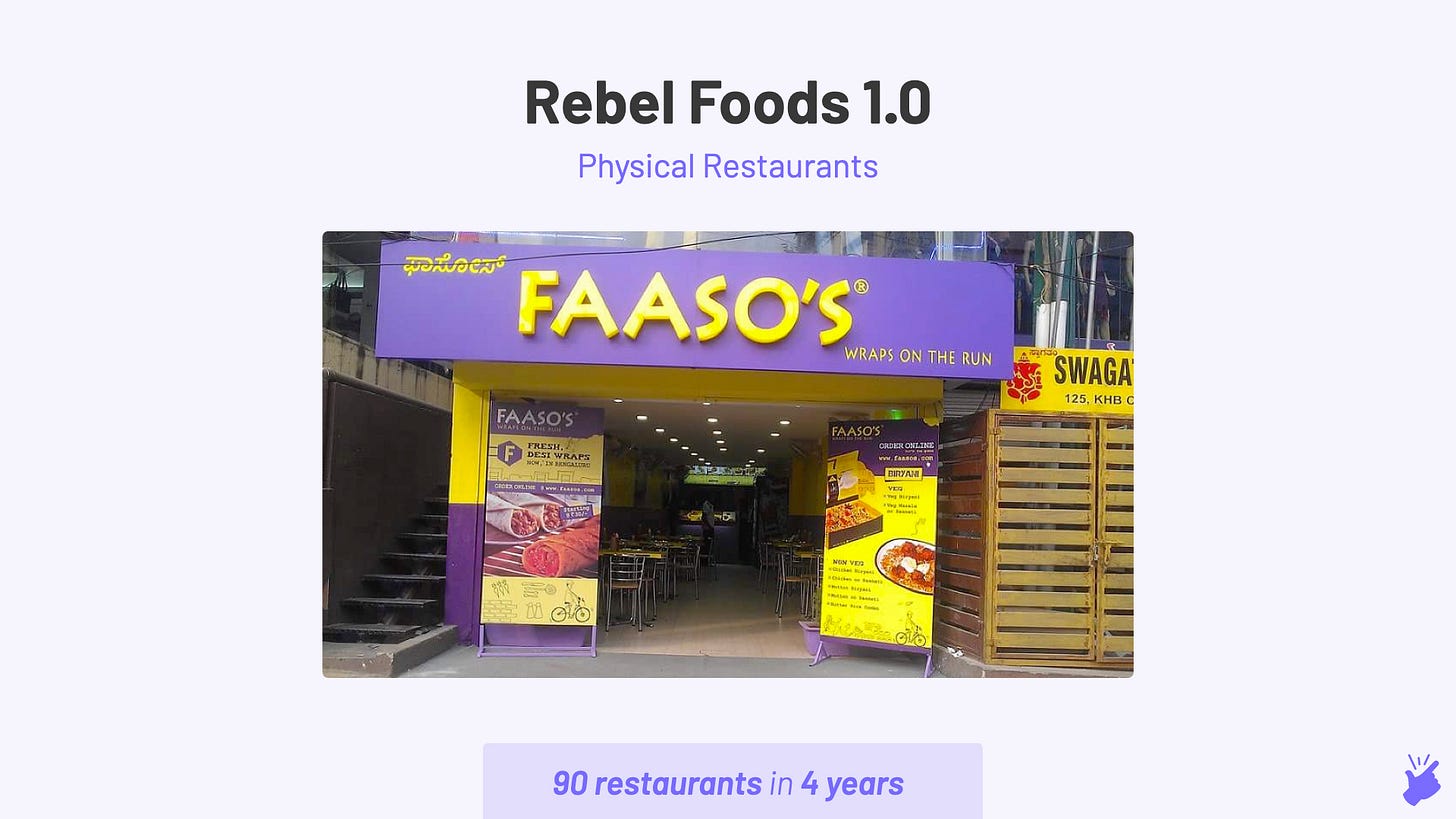 But with this large network of physical restaurants, Faasos started facing 2 challenges which a lot of other restaurant chains also face:
Location underperformance
In a restaurant chain, not all the locations perform equally. There are chances that some location will not attract enough customers to run profitably. And since all the outlets are typically present in central locations, the rent is pretty high (around 15% of the total sales for Faasos). So any underperforming location meant quite a big loss for the company.

Slow growth rate
Finding and finalizing a high-visibility location takes a lot of time (sometimes even up to 6 months). This limits the rate at which a restaurant chain can expand.
Eureka moment
Exactly around the time Rebel founders were grappling with the above issues (c.2015), online food ordering was taking off in India with the help of Swiggy, Zomato and TinyOwl (RIP). Faasos itself was catering to around 50,000 online orders every month from their own mobile app and website. In terms of share, the founders realized that around 70% of their total orders were actually coming from the internet. And these orders were growing irrespective of the number of stores. That's when they decided to wrap-up (pun intended) all the physical outlets and pivot to a 'cloud kitchen' model.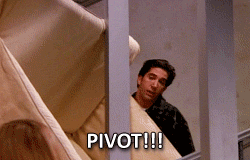 What is a cloud kitchen?
Ordering food online is now a normal thing. We all know how convenient it is compared to the alternative of going out. Due to this change in our behaviour, the food delivery market is growing at a rate of 15% year-on-year and is expected to reach $12B by 2023. Cloud kitchens aim to capture only this food delivery demand.
Cloud kitchens, as the name suggests, is just a kitchen. There's no storefront and seating area for customers. Orders are received online through an aggregators' app (Swiggy/Zomato) or the restaurant's own app. The food is then cooked, packed and sent out for delivery.
Cloud kitchens are much cheaper to operate when compared to traditional restaurants. Because they are not serving customers at location:
They don't need to be in a great location. They can be set up anywhere → savings in rent.

There is no requirement for customer-facing staff (waiters, receptionist), furniture, or interior decoration → savings in running expenses.
All these savings result in a higher profit margin for a cloud kitchen (as illustrated below). The only area where a cloud kitchen spends more than a traditional restaurant is the delivery commission to be paid to Swiggy or Zomato.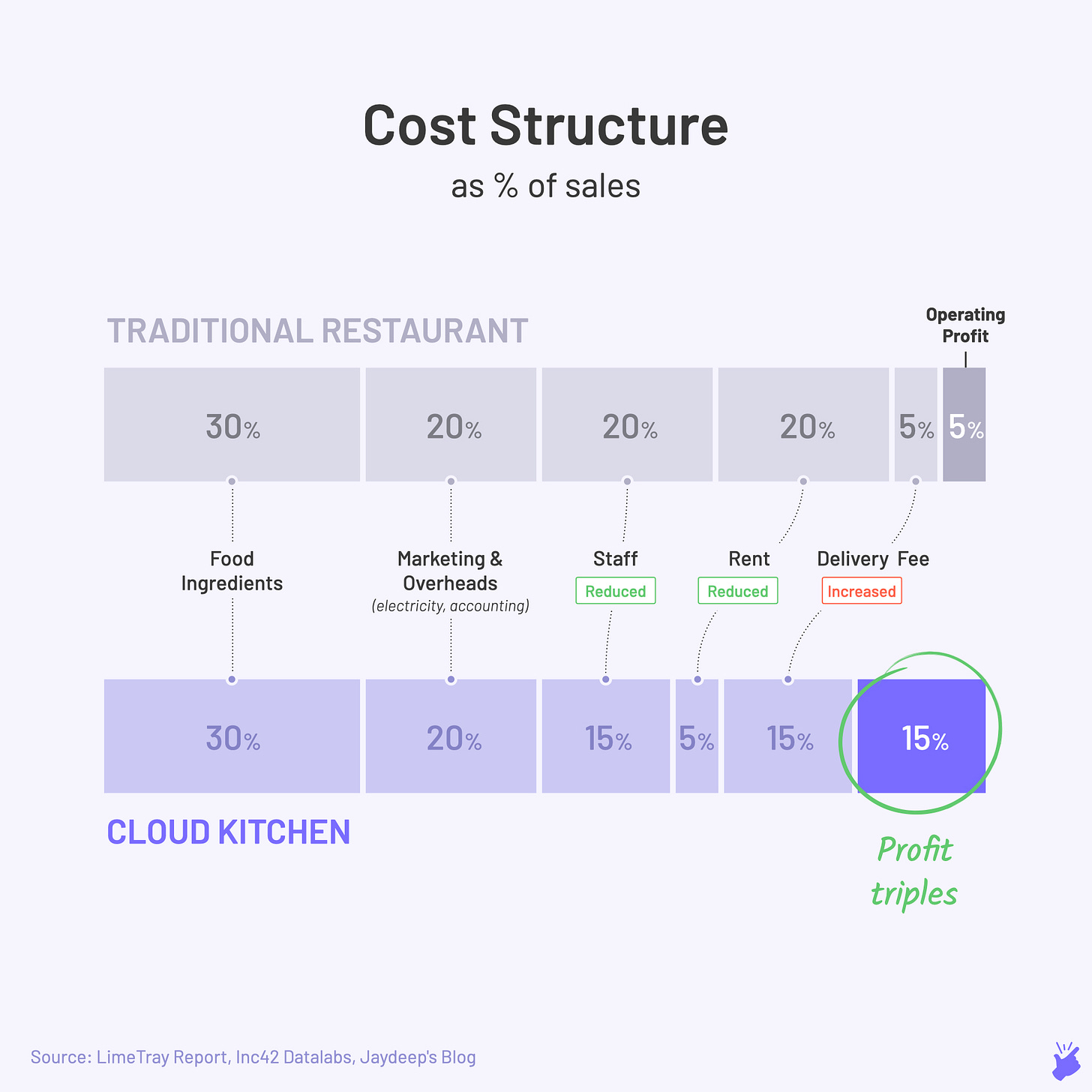 Compared to a traditional restaurant which might take 3 years to reach profitability ("break-even"), a cloud kitchen can recover its investment within 1 year. It is no wonder Rebel Foods decided to pivot to a cloud kitchen model.
Apart from Rebel, many other Indian companies are also adopting this model for its merits. Poncho hospitality (runs Box 8 and Mojo Pizza brands) and Freshmenu have also been operating with a cloud kitchen model. Food Delivery giant Swiggy also set up its own Cloud kitchens called Swiggy Access in 2017. And in recent developments, Jubilant Foodworks which operates Domino's and Dunkin Donuts in India and Kishor Biyani's Future Group are also planning to enter this space.
Rebel
2.0 - Internet Restaurants
In their second avatar, Rebel set up cloud kitchens with separate cooking sections (called "stations") for each of its brands. Every station in the kitchen essentially shows up a separate restaurant on a food ordering app. If they need to add a new brand, they just add one more station the kitchen, not open another kitchen.
Orders are received are via the Faasos app or ordering apps like Swiggy/Zomato. Each kitchen is led by a Chief Delight officer who is responsible for running the entire kitchen like a CEO.
This model resulted in significant benefits for the company.
Savings on costs
With the need to set up shop in high visibility locations gone, Rebel's rental cost fell from 15% of its sales to a mere 3%. Of course, they also saved more by eliminating the need for waiter staff and furniture.

Rapid expansion
With a relatively lower upfront investment required and less time needed to finalize locations, the company was able to expand at a much rapid pace. As we discussed at the beginning of this post, this allowed them to create 2000+ restaurants (stations) operating from 300 cloud kitchens in just 4 years. Setting up a similar number of traditional restaurants would require decades (remember the Domino's example?).

Scaling up new brands
Starting with Faasos as its main brand, the company identified foods habits and needs of Indian consumers and developed a brand to fulfil each of those needs. The below image represents the different needs their brands meet.

They were able to add so many brands largely because of the flexibility offered by cloud kitchens. The new brands could be tested quickly in a similar fashion to A/B testing (a method used by software companies to test new features by exposing them to limited users). At first, brands were introduced in a limited number of kitchens and customer feedback gauged. If the brand performed well, Rebel then spent on advertising and expanding it nationally. The best part - operationally, just another station had to be added in an existing kitchen.

This quick ability to scale up (and down) allows Rebel to cater to regional demand for specific time periods. For instance, they sell Haleem and Navratri meals only during the period of Ramazan and Navratri respectively.
The way forward
For the financial year 2018-19, Rebel's revenue stood at ₹300cr ($40M) which is a 10x growth over 2015. The company is still loss-making, primarily because it investing aggressively in marketing its new brands and expanding to more locations. But we can expect it to reach profitability soon. There are multiple avenues Rebel can look to explore for growth:
Adding new brands ("Brand expansion")
Given the variety of cuisines and food habits across India, Rebel can add even more national and regional brands. There is still opportunity in categories like street food, salads and keto meals for instance.

Entering new geographies ("Market expansion")
As mentioned earlier, Rebel has already started expanding to other countries, namely UAE and Brazil which are ripe markets for cloud kitchens.

Franchising opportunity
With brands like Faasos and Behrouz becoming a household name, Rebel can let other entrepreneurs (a 3rd party) open cloud kitchens that sell one or more of Rebel's brands in return for a licensing fee (for using Rebel's brand name) and a defined % share of annual sales (revenue-share). These 3rd party cloud kitchens ("franchises") will be a provided training for its staff and a Statement of Operating Procedures (aka "SOP" which is a list of step-by-step instructions to run the kitchen which these 3rd parties have to follow in order to be a franchise).

Partnering with local and global brands
Many global brands find it tough to launch in India. It's a huge risk since there is a lot of upfront investment needed (setting up restaurants, marketing) but they do not know if the brand will work. A possible way to mitigate them can be to use Rebel's cloud kitchen to launch the brand in limited regions and test it - all at a fraction of the cost it would otherwise have cost them. Similarly, local brands (say a Murugan Idli or Kababi's) too can expand to states they are not present in by setting up stations in Rebel's cloud kitchens rather than setting up their own (very similar to what Swiggy does with its Swiggy Access cloud kitchens). Such partnerships will also help plug the gaps in Rebel's brand portfolio while creating new revenue streams.
With this insane speed of growth and cost-saving business model, Rebel Foods seems to be on track to become India's 3rd food-tech unicorn after Swiggy and Zomato.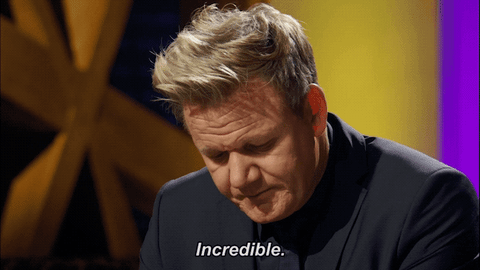 Ciao!
That's it for today. If you liked the article, please feel free to order a Behrouz Biryani for me 🙂
---
If you liked this Simplanation, consider buying us a coffee 🙂
Due to payment gateway technicalities, we have to give different buttons for readers in India and readers in other countries.
---
More reads on the topic
How to build 1000 Restaurants in 24 months - The REBEL method
Jaydeep talk about his entire playbook for building Rebel Foods. Excellent read.

Brownian Musings
The story behind the inception of Faasos, again by Jaydeep