Discover more from Simplanations
Inner workings of business and tech explained in simple words. Join 8,000+ curious readers.
Over 10,000 subscribers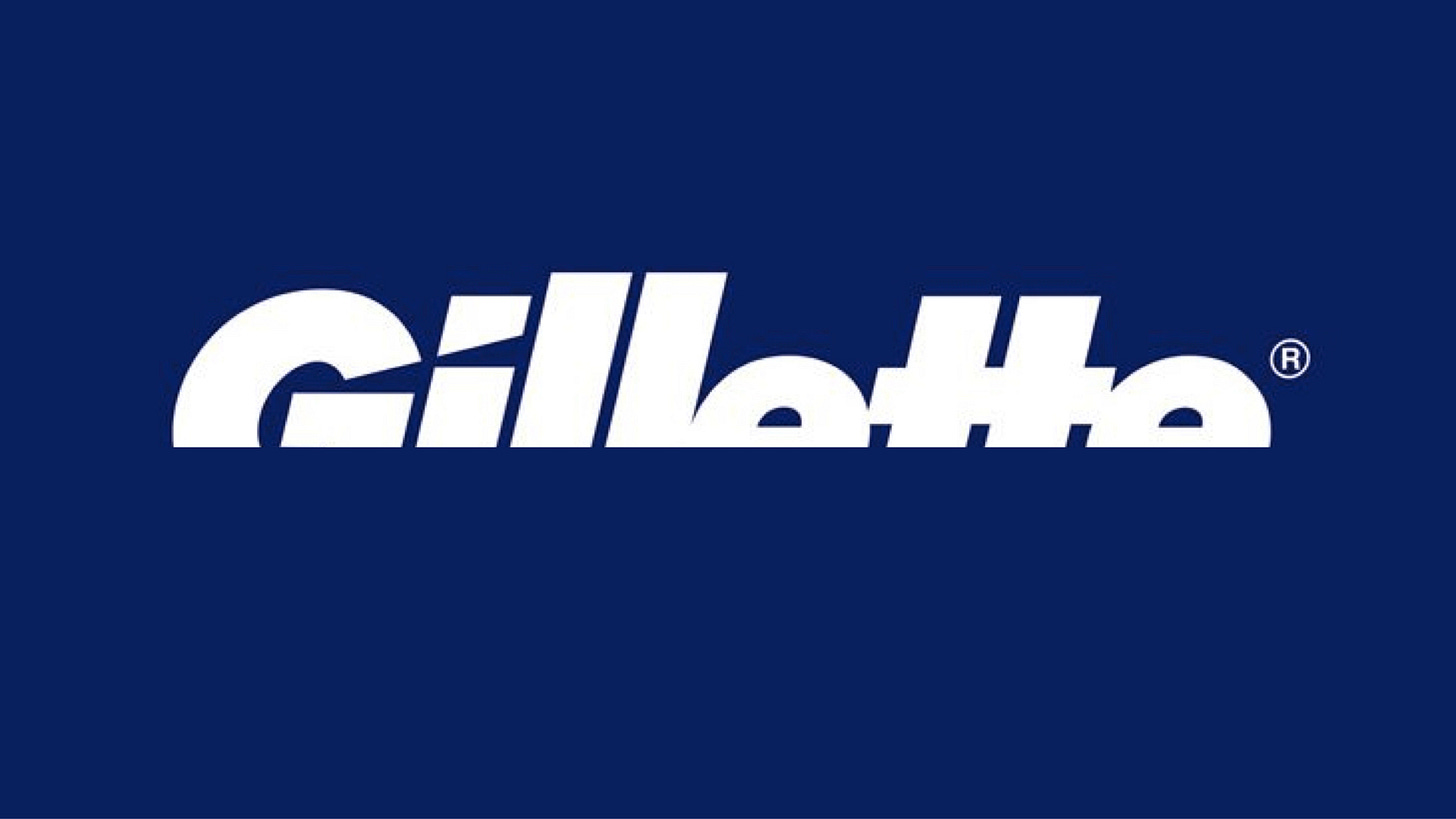 A quick intro before talking about the $8B valuation cut...
Started in 1901 by King C Gillette, Gillette has been creating razors for over a century now. Innovations like the "double-edged safety razor", "tiltable razor", and "sensor razor" were beautiful, well-thought products that made Gillette a household name.
The best part for Gillette - all these products were patented which prevented new players from entering the shaving market. This allowed Gillette to gain a market share of over 70% in the US by the year 2000. Gillette also maintained a very high gross margin of around 60% (price minus only the cost of making the razor, not marketing it).
All of this made Gillette a super-valuable company and it was acquired by Procter & Gamble for a staggering $57B in 2005 - the biggest acquisition in the consumer products space till today.

So, the $8B valuation cut...
Almost 15 years after the acquisition, P&G wrote down the value of Gillette brand by $8B last year (in case you are not aware of the concept of goodwill, it basically means P&G assigned a value to the Gillette brand in its accounting books when it acquired Gillette but realized it wasn't that valuable now).
What happened?
The last 15 years have not been a smooth shave for Gillette (sorry, I know I am overdoing the shaving puns).
Most of the patents that protected them from new entrants got expired. Gillette's market share declined from 70% at the start of the century to 54% in 2018.

Sales growth was in the negative for the majority of the past 3 years. Gillette was slowing while all other categories in P&G (oral care, soaps, etc) continued to grow at a decent pace.
With this slowdown in sales happening across India and the US (its two largest markets) for a while now, P&G was forced to write down Gillette's value.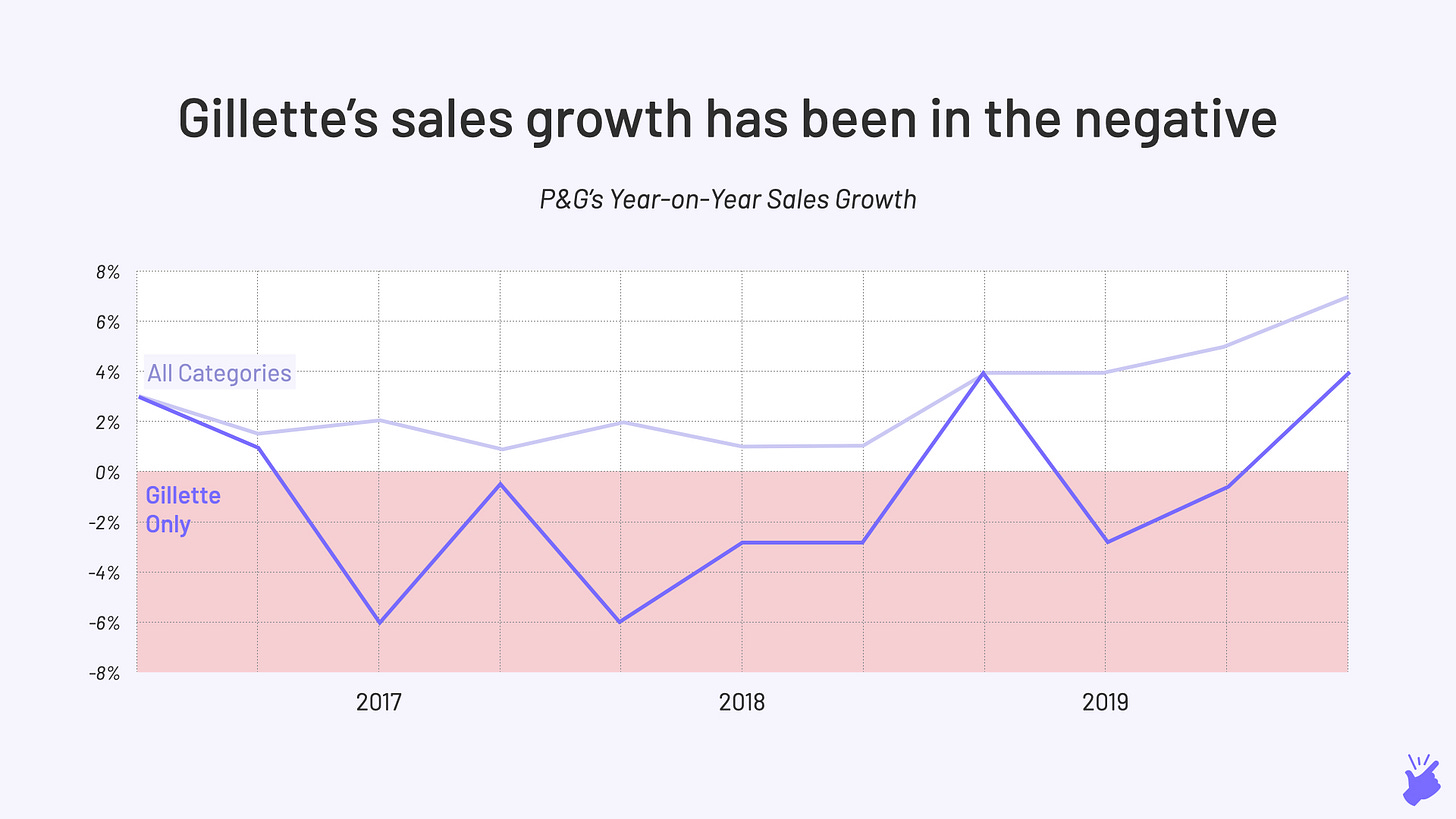 Why the drop in sales?
The change in fortunes can be broadly attributed to two reasons
New-found love for beards

Increased competition within razors
1. Beards are in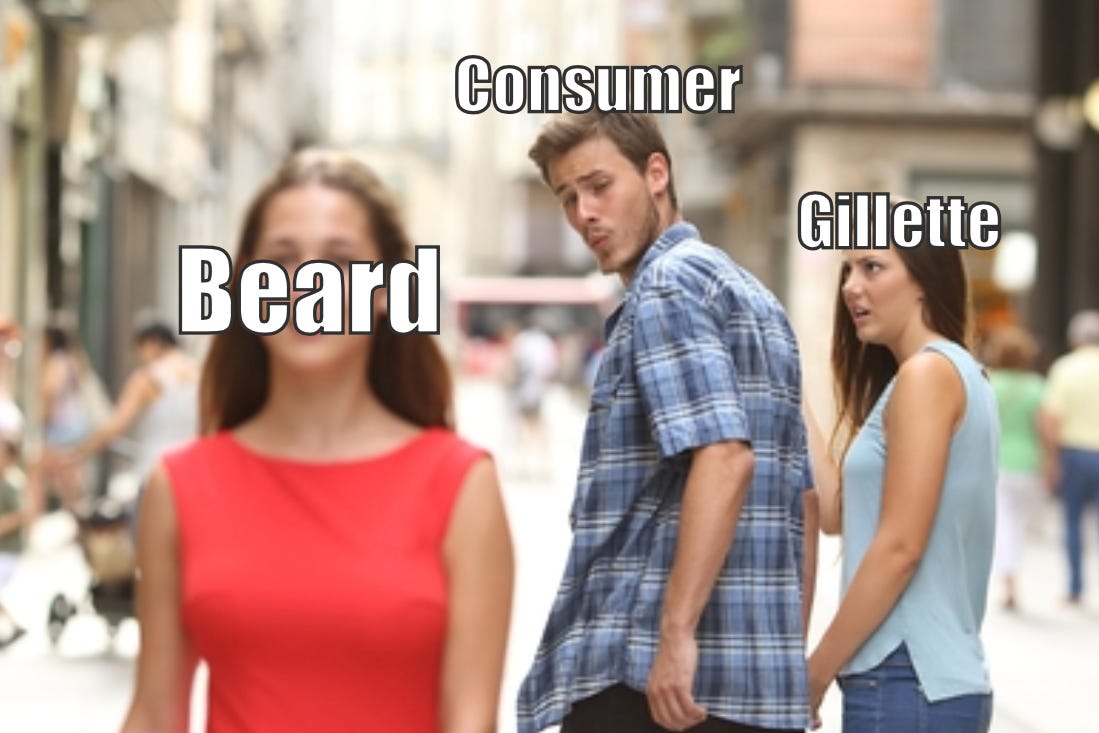 Beards have gained popularity fast across the globe. Movember (formerly known as No-Shave November) has become a global movement with millions of men participating and growing facial hair every year.
An interesting statistic reflecting the growing beard movement in India...In 2011, the 15 member squad of the Indian cricket team was announced for the World cup. In the entire squad, only 3 players sported a beard. Fast forward to 2019, the world cup squad had 12 out of 15 players who had a beard.
Why will you buy a razor if you don't want to shave? It was no surprise when Mintel's report estimated that "shaving & hair removal tools" sales in the US in 2018 were down 4% from 2017 and no growth is expected for the next 5 years.
Let's step aside for a moment and understand the psychology behind why beards are the 'in thing' now.
The University of New South Wales, Australia performed an experiment to understand this phenomenon. They recruited a group of men & women to rate the attractiveness of samples of men's faces. These samples contained 4 varieties of faces as shown in the image below.

The participants were divided into 3 groups.
Group 1: were shown mostly samples of men with 'full beard'

Group 2: were shown mostly samples of men who were 'clean-shaven'

Group 3: were shown an equal mixture of the four varieties
The results were as follows.
Group 1: found clean-shaven faces more attractive

Group 2: found full beard faces more attractive

Group 3: showed no clear preference
The conclusion was pretty clear - when there are more clean-shaven men, beards become more attractive and vice-versa. The study suggested that when a 'peak beard' frequency is reached, the trend would stop and more men would start preferring the clean-shaven look.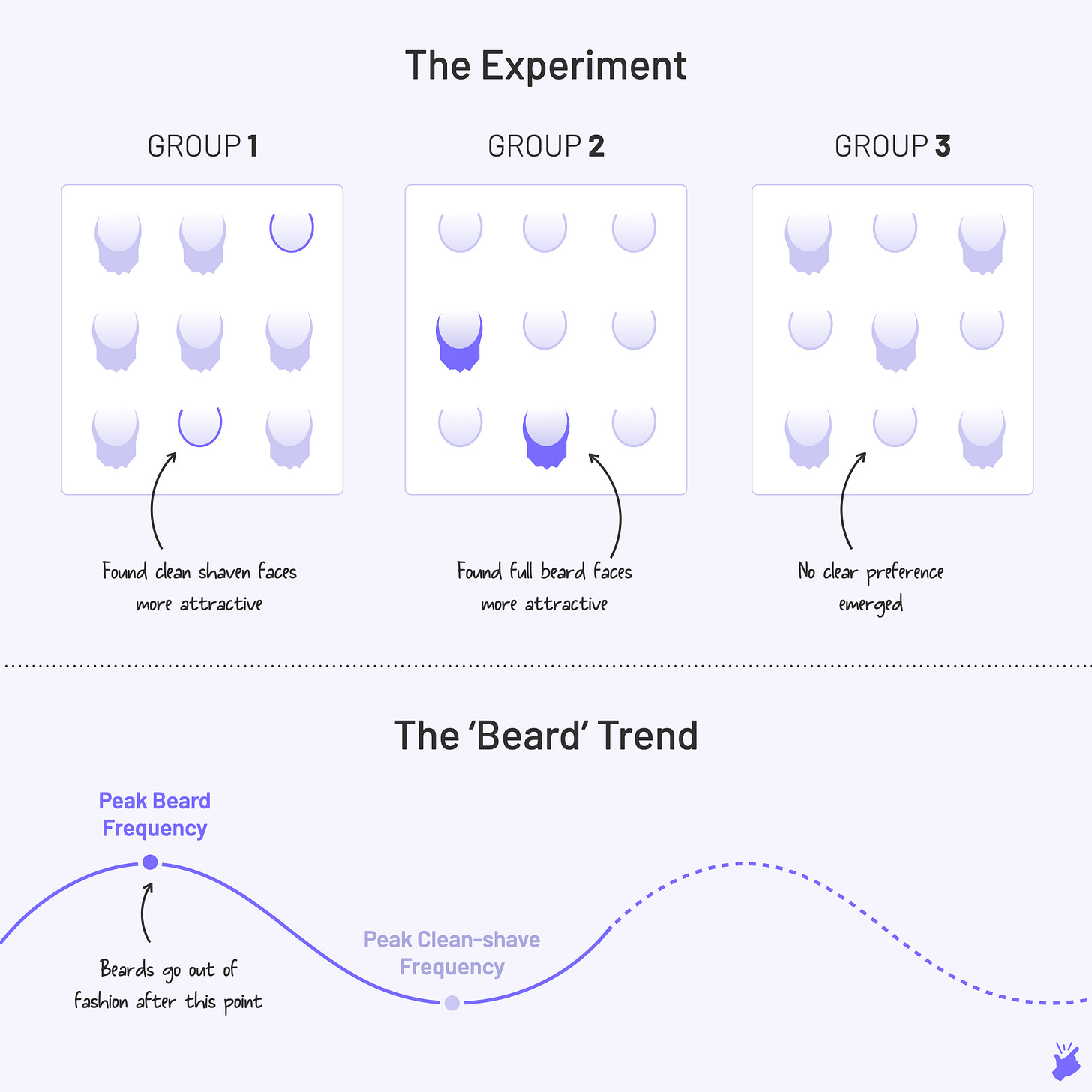 Back to business...
Where there is a new consumer trend, there are a truckload of startups. The last few years have seen a sudden rise in players providing grooming products like beard oil, shampoo, wax, gel, soap and trimmers (not to cut but style the beard).
According to research firm Spate, searches for beard grooming products last year were up by 112% year-on-year in the US. More customers for these startups means lesser revenues for Gillette and other companies in the shaving category.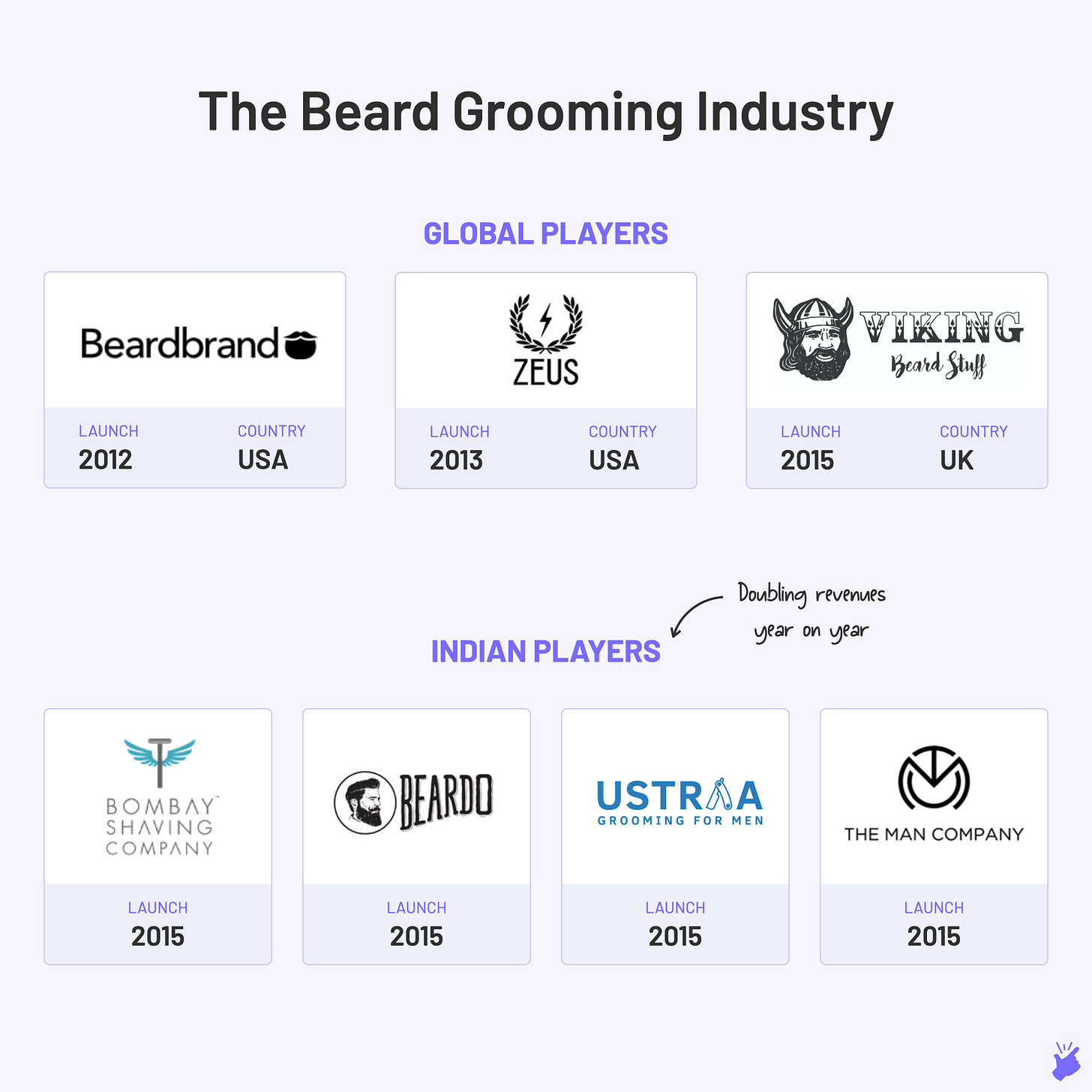 These brands have not only created new products but have innovated in business models.
They have positioned themselves as premium products hence giving them the ability to sell at higher prices

They sell mostly via e-commerce channels or directly from their websites saving considerably on their distribution and rental costs (but they do have high online advertising costs)

And most offer subscription packages to build a stronger relationship with customers
In India, incumbent (current leaders) grooming product companies have woken up to their space being encroached upon and are scrambling to get a share of this new pie (see pic).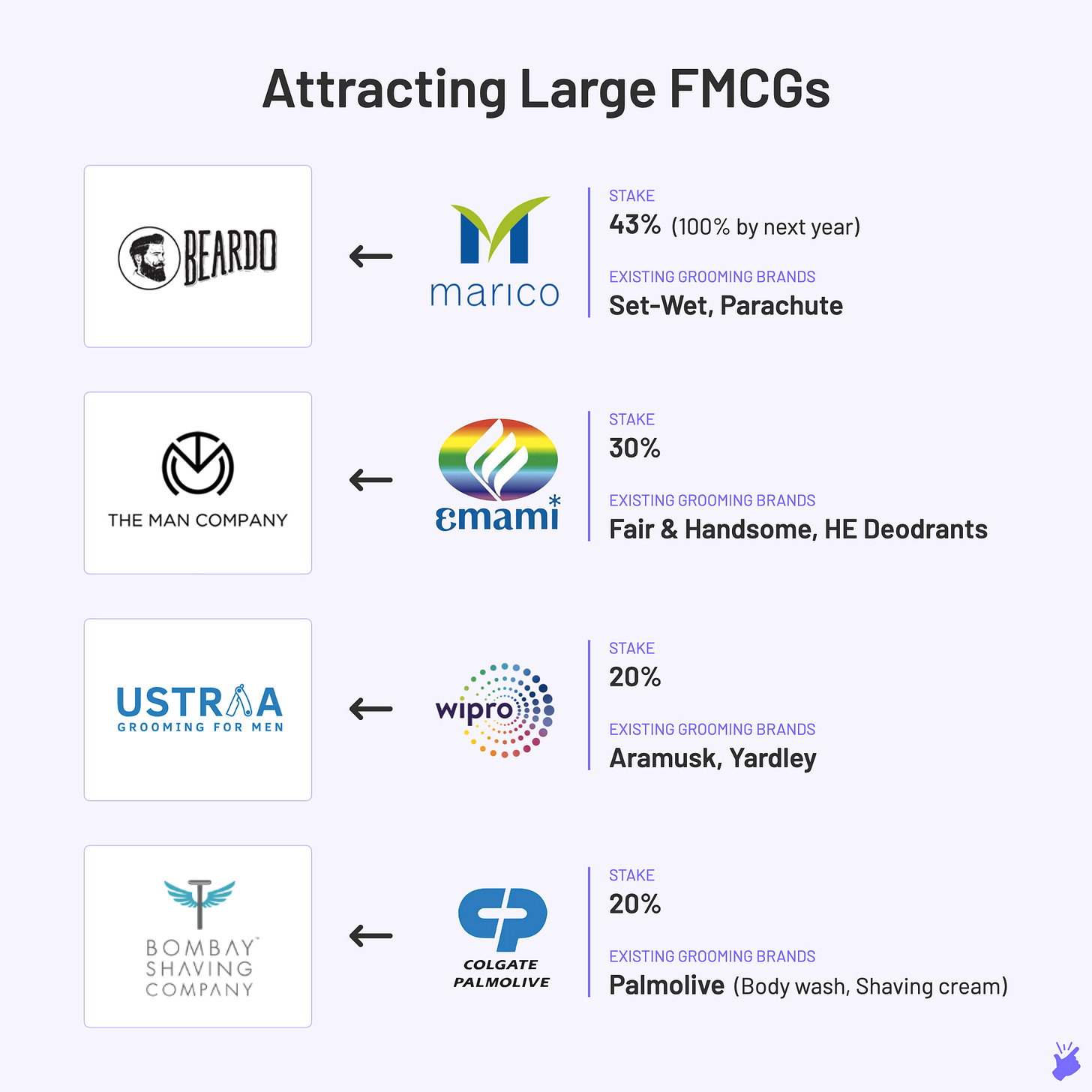 2. Davids taking on the Goliath
The growth of the 'beard pie' comes at the cost of the 'shaving pie'. Even as fewer razors are being sold, the number of razor companies has risen.
Gillette is facing more competition, particularly in the US market, where customers were fed-up of its high razor prices. But why were the prices so high?
For almost a century, the only two major players in the razor market had been Gillette and Edgewell's Schick. Once both players had introduced a 3-blade safety razor, the shaving experience was close to perfect. With nothing much left to innovate on, Gillette (and consequently Schick) have been coming out with new razors that are more 'flashy' than actually 'need-based' for the past few years. For example, the Fusion Proglide Flexball razor which could cut hair "23 microns" (0.023 millimetres) shorter than the previous premium razor. The company spent nearly $200M in marketing efforts for this new product. Another example is a heated razor which gives a hot shaving experience at $300. The massive R&D budgets and marketing campaigns for these 'flashy razors' had to be funded by high prices.
Customers look for a certain promise from a brand. But beyond a certain threshold, any additional benefits will go unnoticed. All customers wanted was a decent razor at an affordable price. That was it.
It was on this promise that Dollar Shave Club and Harry's were founded in 2011 and 2012 respectively. No frills. Only 1 or 2 variants of razors unlike Gillette's 20+. And offered at lower prices compared to Gillette. Something they were able to do by selling directly to consumers (from their website) and saving the margins that retailers take away. Both companies were an instant hit and captured 12% share in a century-old market within a few years.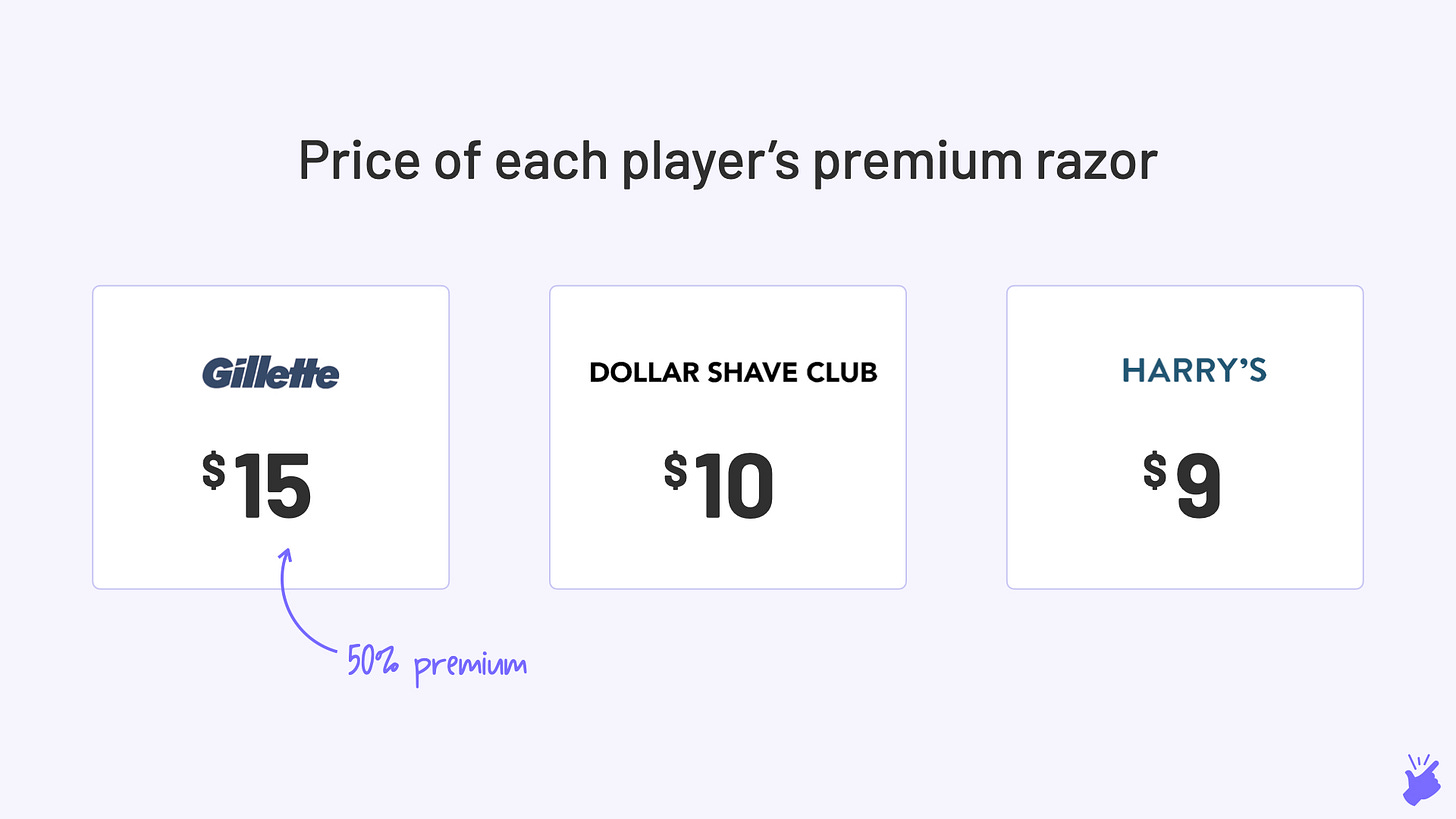 Unilever acquired Dollar Shave Club for $1B in 2016 to get its foot in the shaving game. And Schick made an attempt at acquiring Harry's early this year. It failed but the message was clear - these new kids were too important to ignore.
This 90-second hilarious ad by DollarShaveClub in which the founder himself appears perfectly captures what was happening in the razor market. Must watch!!
How has Gillette been dealing with all this?
1. Lowering prices to defend its territory
Gillette has realized the razor market has been commoditized, ie, the players are competing mostly on price. It is going to be very difficult to create products that will attract consumers away from competition solely on differentiated features.
In the past year, Gillette slashed prices by 20% for a few razors it sells via retail stores.

It has also started its own 'Shaving Club', a direct-to-consumer subscription service in the US. This would relieve Gillette off the retailers' margin and allow passing that to consumers as price cuts.
My take - Gillette will need to review its core product design philosophy - focusing more on creating economical products rather than products with flashy, non-value adding features. It is possible for them and they have done it in the past with Gillette Guard - a single-blade low-cost razor specifically designed for the Indian shaver.
2. Foraying into new territory
The beard grooming market is becoming too large to ignore, at least until the next peak beard frequency is reached. Given P&G's experience in soap, shampoo and grooming category, it makes sense for Gillette to foray into this new fast-growing category.
And interestingly, two days after I started writing this piece, P&G announced the launch of King C Gillette, a premium collection of beard grooming products. This collection is only being sold through Walgreens at present and includes a trimmer, beard oil and beard balm apart from the razors. This launch seems like a pilot program to gauge customer response before completely entering into this category.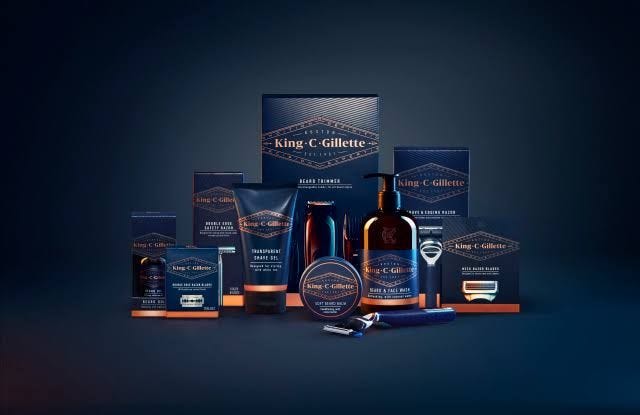 If this works out, we may very well see Gillette expanding into the more encompassing 'hair maintenance' space vs. 'hair removal' space.
---
If you liked this Simplanation, consider buying us a coffee 🙂
Due to payment gateway technicalities, we have to give different buttons for readers in India and readers in other countries.
---
More reads on the topic...
Email Addresses and Razor Blades
Excellent piece on the increasing competition in the US shaving industry and benefits of direct-to-consumer route

Dollar Shave Club and the Disruption of Everything
Ben Thompson (again!) tries to paint a picture of the implications of the rise of new-age shaving companies

Of burgeoning beards and consumerism around this trend
A detailed take on rising consumer brands in India catering to bearded men