Discover more from Simplanations
Inner workings of business and tech explained in simple words. Join 8,000+ curious readers.
Over 10,000 subscribers
Author's Note
Shoutout to my good friend (and B-school batchmate) Nitish Singh who gave me the permission to build upon this Twitter thread and weave it into a SNAP.
To all our new subscribers - while Simplanations is about long-form, we do send out shorter 3-5 minute light reads called SNAPs once in a while.
We didn't plan this but all our SNAPs till now happen to be about beverages. So, on we go into another one...coffee!
---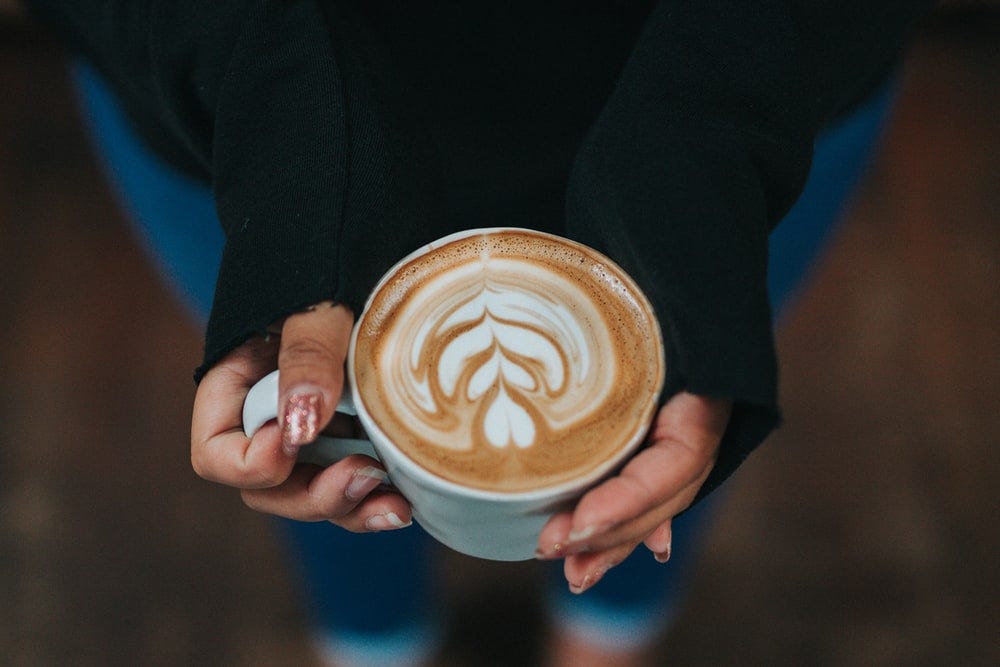 Cafés are a pretty old business. The first café was set up in 1550 in Constantinople, kickstarting the concept of a place where people came and drank coffee (sounds weird when you describe it like that). The concept rose to prominence across Europe in the 17th century and spread across the globe over the next 200 years. It is no surprise that the coffee retail chain is a massive $60B business. And our love for coffee doesn't seem to be going anywhere since the market is growing at a healthy pace, well-poised to reach over $140B by 2025 (pre-CoVid-19 estimate; pretty sure this will be revised lower).
Starbucks is the most famous name in this space. Seeded in 1971, Howard Schultz built Starbucks into a behemoth with over 31,000 stores across 80+ markets. The immediate competitor to Starbucks is Costa Coffee at 4,000 stores (almost 1/8th of Starbucks). With $25B in annual sales (15x of Costa which is at $1.6B), Starbucks sits comfortably at the top. However, it shouldn't be sitting comfortably.
Because there's another player slowly eating into Starbuck's pie (cup??). The interesting part - it isn't even a coffee company. It's a burger company - McDonald's!
McCafé - A caffeine boost to McDonald's
McDonald's launched McCafé first in Australia, in 1993, but it was not before 2001 that they started its expansion into the US. The idea was pretty simple but genius. You already have stores selling burgers. And these stores are generally situated in prime locations (meaning a lot of footfall). Why not use a portion of that as a café? More people will walk in for a coffee (higher sales). Might end up even buying a burger since they are already there (even higher sales).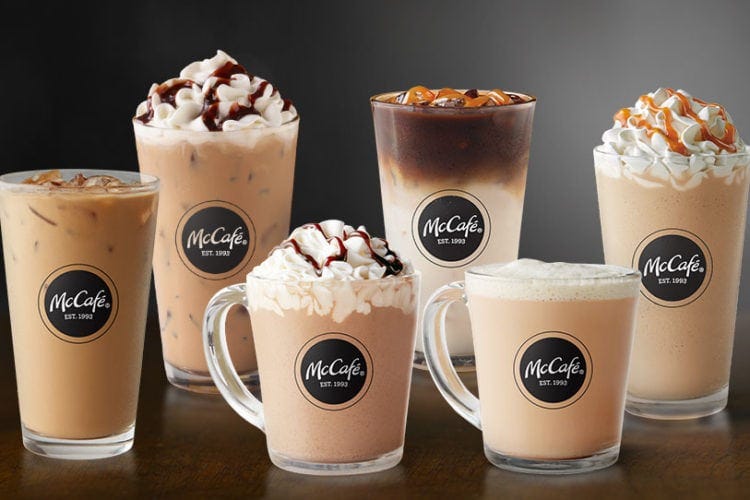 Out of the 38,000 outlets that McDonald's has globally, ~15,000 currently have a McCafé. This makes McCafé actually the second-largest coffee chain in the world by no. of stores, only behind Starbucks. Not just no. of stores but also by revenue. Roughly 15% of McD's total revenue comes from McCafe amounting to $3.5B. This is twice that of Costa Coffee who has been in the game for much longer.
In India, there are more McCafé outlets (~190) than Starbucks (~130). And McDonald's plans to make all its 300+ stores in India have a McCafé by 2022. Starbucks will never be able to match this pace of growth. Even if it does, it will come at a cost much higher than what it will cost McDonald's (because they have to rent new locations, etc while McDonald's doesn't have to).
McCafé - a feature for McDonald's?
There's a concept called 'featurizing' in tech. When a company takes an entire product (Product A) and adds it as a part to its existing product (Product B), this company has essentially featurized Product A, ie, added Product A as a feature in its own product. This is pretty common in the tech space. A good example being Google Duo (mobile video calling) being featurized by Whatsapp. Whatsapp just had to add a 'call button' to its existing messaging app. Another one is Slack (messaging for corporate teams) being featurized by Microsoft. Microsoft added 'Teams' (its messaging service) as an additional offering to customers already using Microsoft Office Suite (Excel, Outlook, etc).
Mind you, adding that 'call button' or creating 'Teams' is not as easy as it sounds. There is obviously a lot of work behind the scenes that goes into building them. So featurization is not about less effort, it is about distribution, ie, these companies already have a large group of customers using their existing product...so why not add one more product (as a feature) in their offering.
Through McCafé, McDonald's featurized cafés. Cafés, an entire product by itself, was included like an add-on to McDonald's existing product (restaurants selling burgers).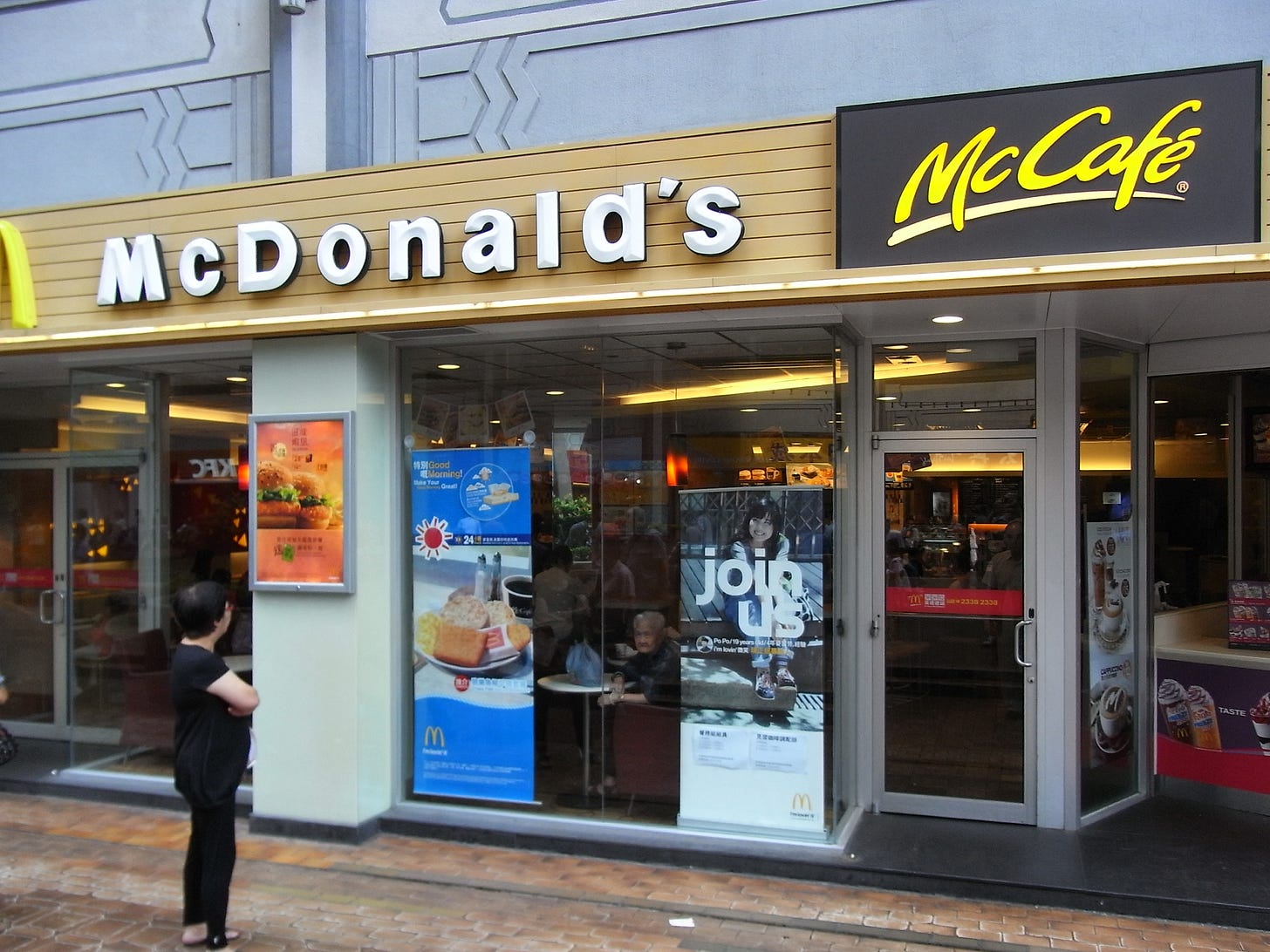 CIAO!!
---
References: