Discover more from Simplanations
Inner workings of business and tech explained in simple words. Join 8,000+ curious readers.
Over 10,000 subscribers
Author's Note
A lot of the analysis in the article is a simplified understanding of what Harsh (Co-Founder, Dream11) has said across different interviews. Few of the calculations in the article also use the numbers shared by Harsh in an interview.
---
When a cricket match is on in India, it is common to hear "I think Sehwag will hit a century today" or "If I was the coach, I would have played Bhajji instead of Ashwin". India is full of cricket pundits who love to share their opinions and then brag about it if they get it right. It is this behavioural insight that fantasy sports (where you create a team of your own liking) build upon. Give a platform to such 'pundits' to pit their strategy against millions of others and win money + bragging rights.
In India, the popularity of Online Fantasy Sports (OFS) has gone through the roof in recent years. The number of OFS platforms in India like Dream 11, Halaplay, FanFight has gone from 10 in 2016 to 140+ in the present day. The user base of these platforms has also grown from a mere 2M in 2016 to 90M in 2020. Even the money that is bet on these platforms (called 'Contest Entry Amount' or CEA) almost tripled from ₹6,000cr ($800M) in 2019 to ₹16,500cr ($2.2B) in 2020.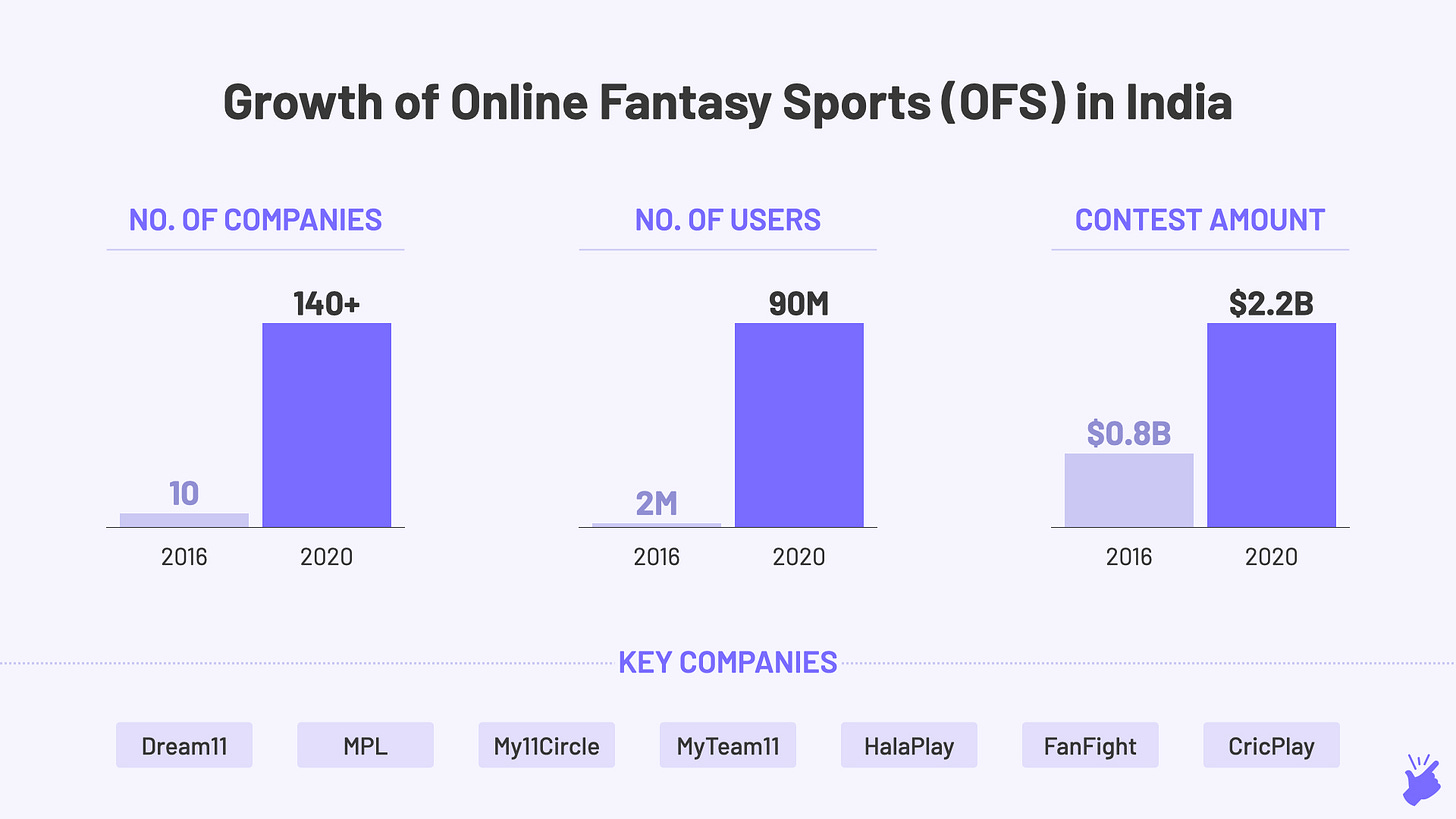 What makes this growth even more impressive is that the industry was close to non-existent in India a decade ago. The earliest form of fantasy sports in India was "Super Selector", a no-money-involved fantasy cricket game run by ESPN in 2001. But despite good traction, it was shelved in 2003. And fantasy sport was killed in India even before it could take off. Things would stay that way for 5 years until 2 fresh college graduates, Harsh Jain and Bhavish Sheth, would resurrect the category through Dream11.
Over 10 years, Dream11 built the category from scratch in India and reaped the benefits of it. Today, Dream 11 is the largest and most recognized OFS player in India with over 70M users (a little more than 75% of the users of all other OFS players combined 🤯 ). In 2019, Dream11 generated a revenue of around ₹775cr ($103M), a 250% growth over 2018 revenue of ₹224cr ($30M).
Along their journey, the company was backed by marquee investors like Tencent (WeChat owner), Kalaari and Steadview Capital. In Apr 2019, Dream11 was catapulted into the 'Unicorn Club' (privately held companies valued greater than $1B) when Steadview Capital invested $60M. In early 2020, there were speculations of investments from more marquee investors like Tiger Global and Chrys Capital that would value Dream11 at $2B+.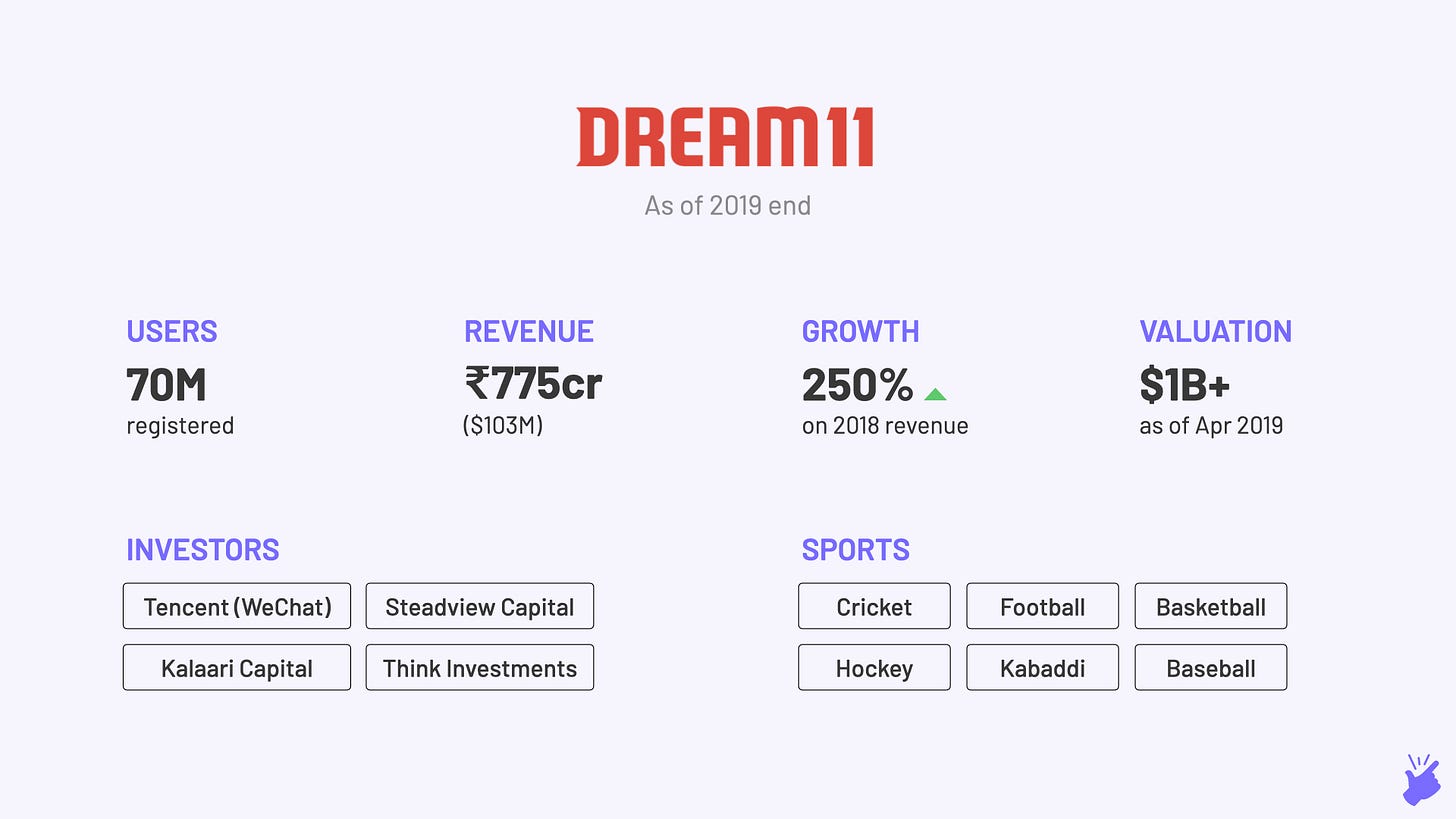 In today's simplanation, let's explore what did Dream11 do to emerge as a leader in the OFS category and of course, bag that unicorn tag. But first things first...
How exactly does Dream11 work?
For a given match, there are many contests. Few free, meaning you can participate in the contest without putting in any money (you don't win any money as well). And few paid, meaning you put in money to participate (and win money as well). For every contest you enter, you create a team (you can enter multiple contests). The entry fee for a paid contest usually ranges between ₹30-60 ($0.4-0.8). Given you have the chance to win prizes from ₹2 lakhs ($2,600+) and above, you don't really mind paying the low entry fees. Also, Dream11 lets 50% of the participant pool win prizes, with the largest share of the cash prize going to the top-ranked and a smaller share going to lower ranks. Unlike a lottery, your odds of winning on Dream11 is 50% (though the last few ranks win an amount lower than the entry fee). Higher odds of winning means more participation from users. Good move Dream11, good move.
If you win, the money is deposited into your Dream11 wallet. You can withdraw this amount into your bank account whenever you like. Only one catch - there's a minimum withdrawal amount of ₹200. Another clever strategy by Dream11 to keep the user coming back. Because you will try to play more contests until you can get your balance up to ₹200. Again, good move Dream11, good move.
When a contest is over, not all the money pooled from entry amounts is distributed. Dream11 keeps 15% of this amount as "platform fee" and the rest is distributed as prize money. This is how Dream11 pays its bills.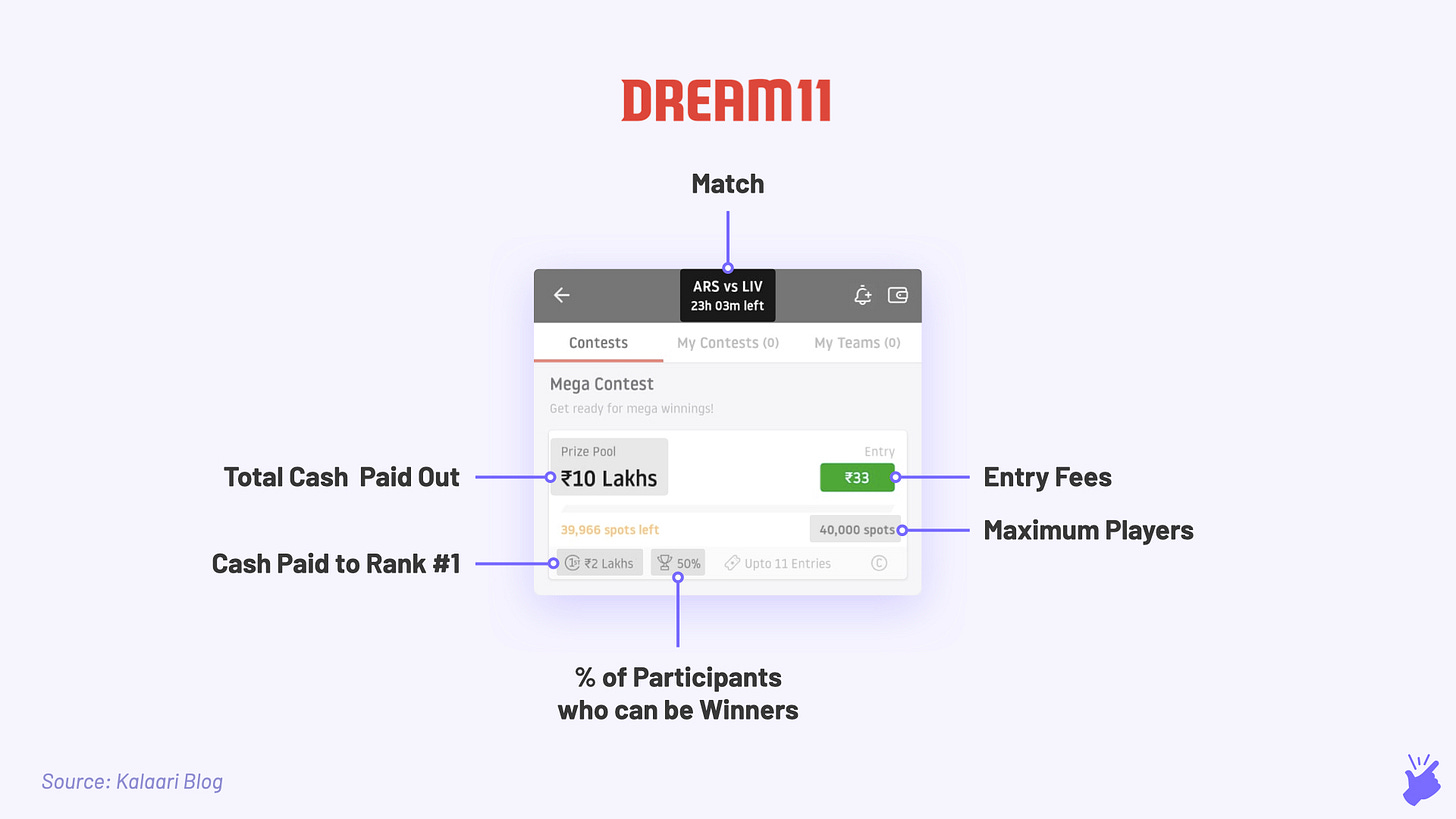 From the above, it looks like Dream11 had it all figured out. But it wasn't always the case. There was a time when the company was struggling to stay alive until a complete revamp of the business saved them from extinction. Let's have a look at that journey.
The Initial Struggle
It all started in 2008 when Harsh Jain returned to India after completing his graduation from UPenn. He was an ardent follower of premier league football and played fantasy football regularly with his friends in the US. After coming to India, Harsh was surprised to see that there was no fantasy sports platform for the IPL (cricket) which was the hottest sports event back then. With millions of cricket fans and increasing internet penetration, Harsh saw this as an opportunity. And that was how Dream 11 was born.
Though the idea was to develop a product for fantasy sports competitions, the team ended up creating a complete platform with umpteen number of features like feeds, blogs, profiles, chats, social media and polls. Expecting a lot of users to join this new platform, they decided to keep the platform free for users to play and earn money from ads. When a certain number of users saw an ad or clicked on the ad, Dream11 would make money.
But there were two problems they faced.
Dream 11 had tournament-long fantasy competitions only. The user had to draft a team at the beginning of the tournament and commit to playing with the same team throughout the tournament. He/She was allowed only a limited number of substitutions over the course. The player with the highest points at the end of the tournament was the winner. This format needed much more commitment from participants (sometimes, months long). And users not at the top of the leaderboard lost interest and stopped playing mid-way.

Dream11 expected to earn revenues from ads but the traffic to their website was minuscule. To add to that, the rates paid for ads (called cost per 1000 impressions or CPM) shown to Indian audiences were very low (around $1-2). Dream11 was supposed to give out cash prizes to winners from this money. Obviously, it never sufficed.
With meagre revenues and low user interest, the company lost money for the first three years (2008-11). To keep the business afloat, the founders started a brand servicing agency on the side. That business managed to generate some cash and keep Dream11 alive. During this time, the founders also got back to the drawing board to rethink Dream11 from ground-up. What followed was magic.
Getting it right
For its new avatar, the company made 3 fundamental changes in its strategy.
Firstly, it adopted the format of daily competitions. This solved the commitment problem they faced earlier (we don't like to commit, right? :P). Winners were declared after every match instead of the entire tournament. So a user could create a team before any match of the tournament and compete. Even if a user didn't perform well in one match, he or she could always hope to win the next. This meant much faster results, more winners and thus the number of active users started skyrocketing.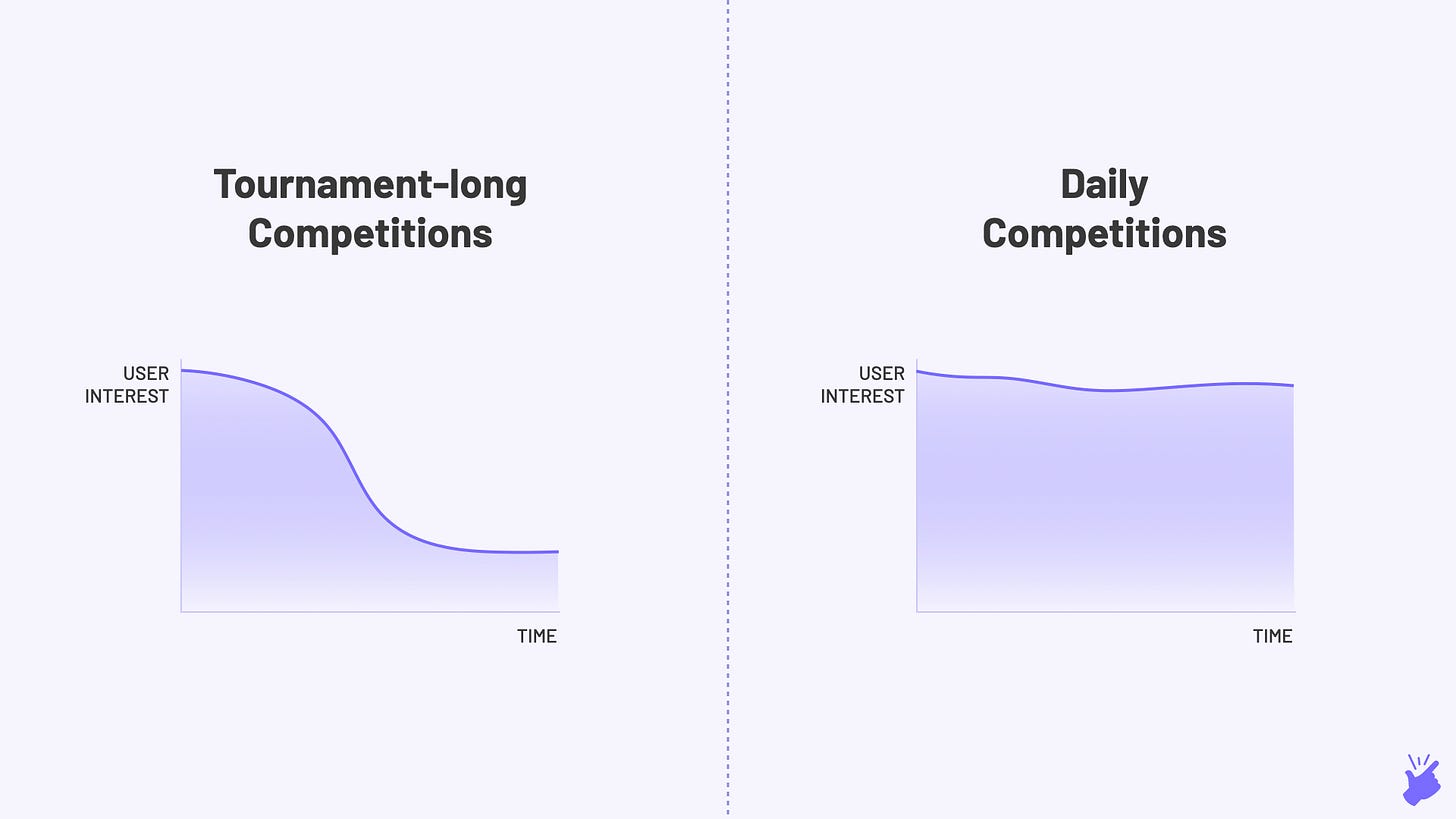 Secondly, the company pivoted to a freemium model (a combination of free competitions + paid (premium) competitions). So now there were 2 types of competitions. One type was where users put in money and won money (real money, not the cash that Lenskart credits in your account). And the second type was where users competed without putting money and won....well, let's just say bragging rights. Like we saw earlier, Dream11 kept the entry fee for paid competitions pretty low at ₹30-60 ($0.4-$0.8) while promising a high reward (₹2 lakhs+ or $2,600+). This is one of the reasons the number of paid users as a % of total users for Dream11 is at 15%, much higher than the average of 3% for other freemium apps.
The freemium model solved the biggest problem that Dream11 was facing - generating revenue! A quick comparison below shows how the freemium model brings in 10x the revenue of the Ad model (assuming the same number of users).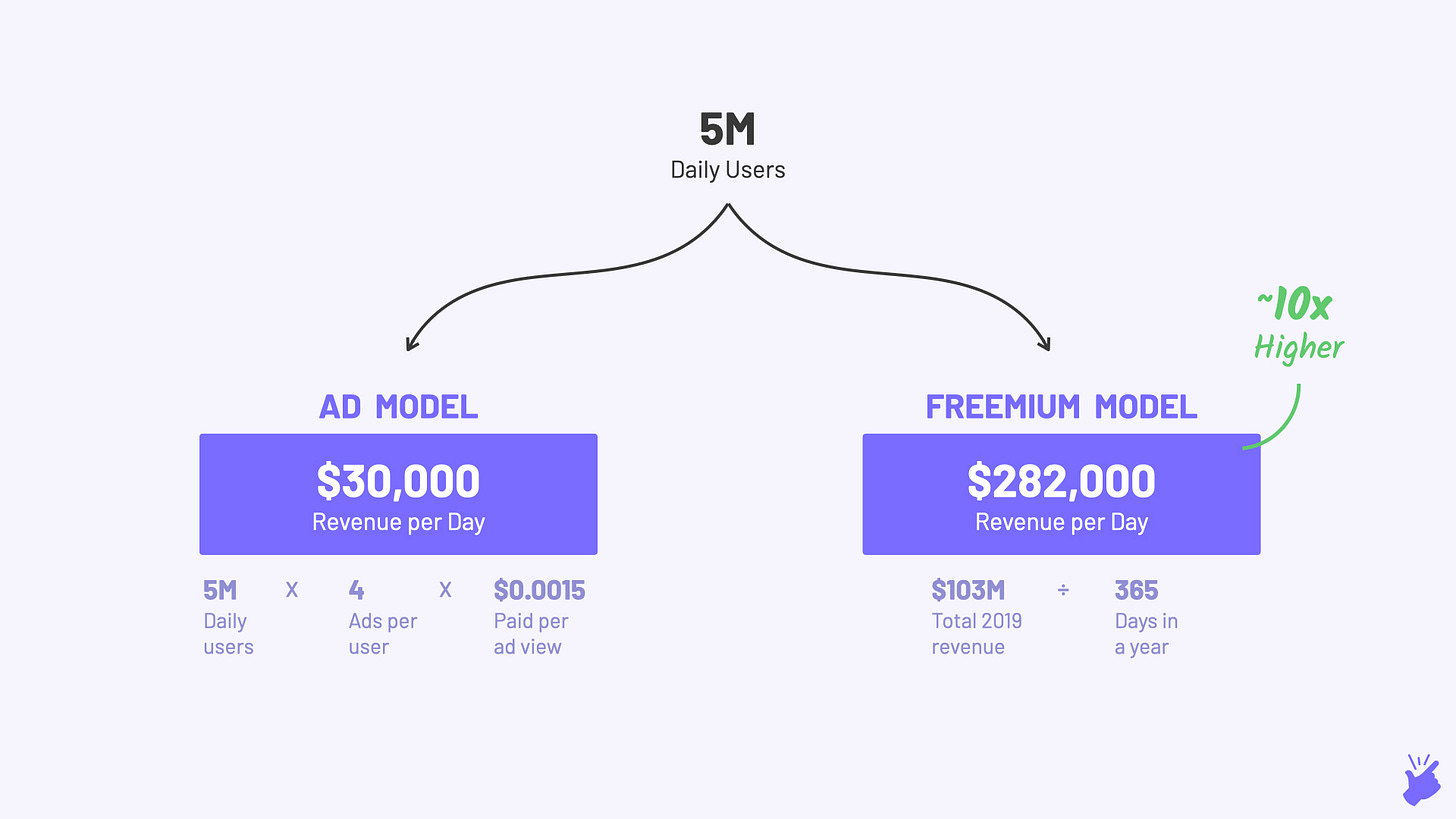 In addition to the above, Dream 11 got rid of all the extra features like chat, blog, timeline, social media, polls, etc. They decided to keep a sharp focus on fantasy cricket competitions only (they expanded to other sports later). This made the product both lighter and easier to use. And also allowed Dream11 to make any changes quickly (agile!!).
It wasn't easy
The shift to cash-based competitions came with its fair share of problems.
The first and most damaging problem was that many considered OFS a form of betting. In fact, multiple pleas were filed against Dream11 in Indian High Courts alleging that it runs a gambling operation. Dream11 got these pleas overturned in its favour by proving OFS is a 'game of skill' rather than a 'game of chance' (betting). While Dream11 got the courts on its side, it still had to win the general public. Even though OFS was ruled as a legal activity, cultural views around 'betting' still prevented many from trying the service. To break this image, Dream11 ran campaigns across TV and social media with the tagline "Khelo Dimaag Se" (Play with your mind). The onboarded MS Dhoni, the then Indian cricket captain as their brand ambassador. Dhoni wasn't just a popular face but also had the image of a cricketer with a brilliant strategic mind (he really is!). As you can see, every move was made to drive home the point that Dream11 was a game of skill and reduce people's apprehensions. This campaign not only helped Dream11 but actually accelerated the growth of the entire OFS category in India. Talk about category creation!
An example of the "Khelo Dimaag Se" ad
The second problem for Dream11 was the Android app store. Google doesn't allow mobile apps offering cash contests on the Play Store. This was quite a big blow for Dream11. To give a physical world example of this problem - how do you get users to find a soap if the soap isn't allowed to be put on shop shelves. While Dream11 got the first set of users through ads and search engines, they decided to bank on these initial users to drive their growth (hence removing the need for the Play Store). How they did it was by using a 'referral hack'. If an existing user referred a friend to the app, both of them got ₹100 in their Dream11 account as a gift. The genius of this was not the referral scheme but the cash gift. The biggest friction point for a new user was to pay cash to compete. Now with ₹100 coming into their account for free, they were very likely to compete in cash-based competitions. And the experience (or exhilaration) of winning a game might push an unsure user to an active user (and active referrer as well).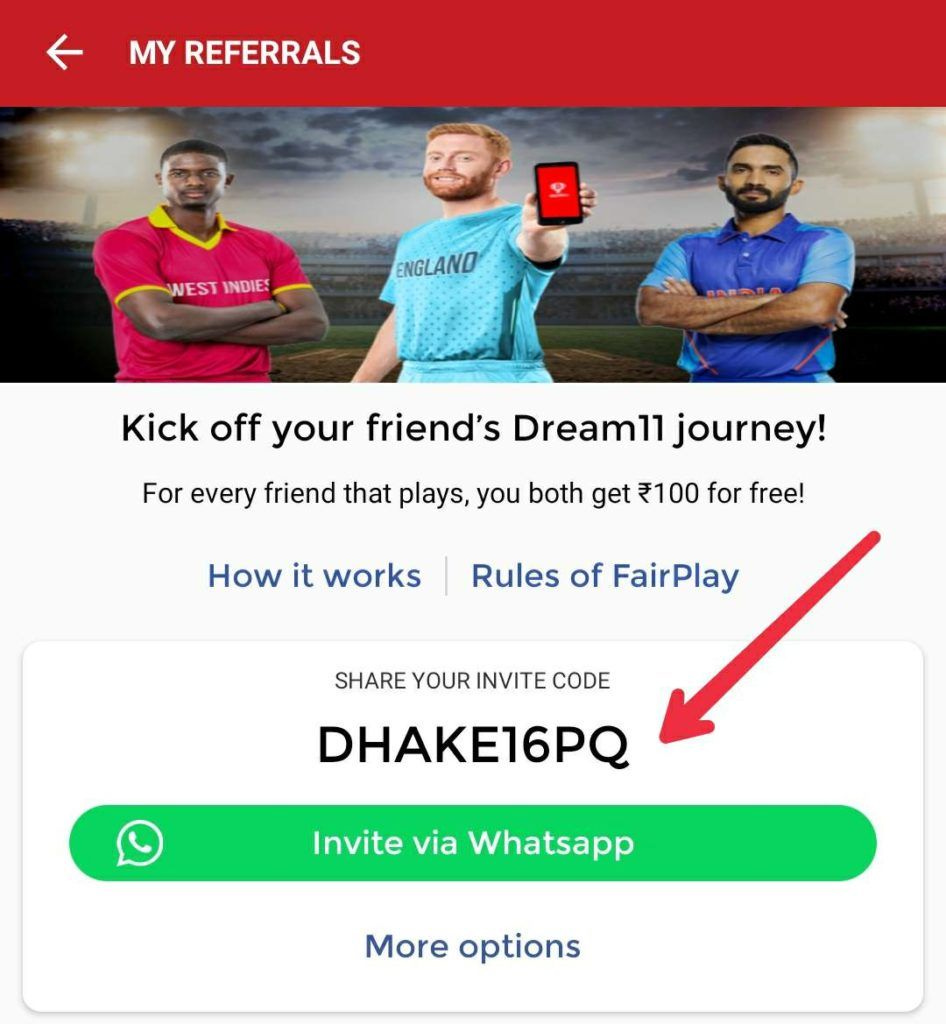 The third problem was competition. To be honest, this was a good problem for Dream11 to have. This was also proof of their marketing campaign's success 😁 which led to a number of me-too OFS players popping-up (with almost the same app interfaces). A user could choose any of the OFS services since the offering was exactly the same. And this was a problem. Dream11 negated this by establishing partnerships with sports bodies to be their official fantasy league partner or sponsor. And this it did ruthlessly by partnering with almost every major sports league in the country. The biggest prize was that of the Indian Premier League (the domestic cricket league) which clocks 400M+ viewers every season.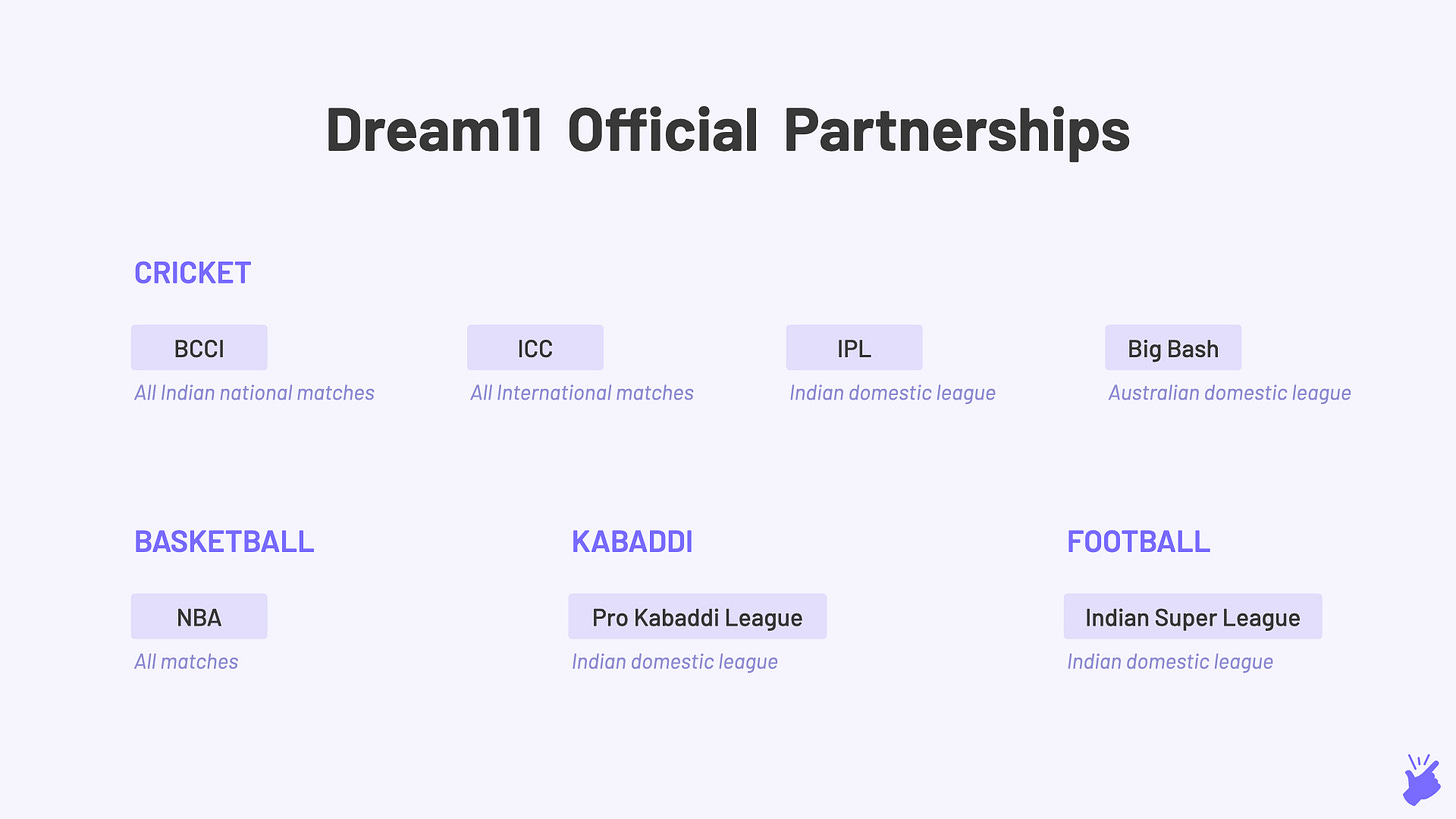 So was all this fight worth it? Is Dream 11 profitable?
No, it is not profitable. For 2019, Dream11 posted a loss of ₹132cr ($17M) on revenue of ₹775cr ($103M), a 17% net loss.
But my view is that it will be profitable soon. Why?
In a business like Dream11, the major expense is advertising & promotion. In fact, in 2019, they spent ₹785cr ($104M) on ads alone which is 84% of their overall expenses. Their remaining expenses are office rent, salaries of their tech team and accounting - expenses which will not grow much as they increase their number of users.
Their main objective of spending so much on ads was to attract new users. The ₹785cr ($104M) they spent on ads in 2019 got them 33M new customers. So we can say Dream11 spent ₹237 or $3.2 ($104M÷33M users) to attract a new user. To jargonize it, this is Dream11's customer acquisition cost or "CAC".
The first step towards profitability for Dream11 would be to achieve positive unit economics, ie, make some profit per user (who is the "unit" here). This means the revenue they earn per user (called average revenue per user or "ARPU") has to be more than the cost they spend on attracting a new user ("CAC" as we discussed earlier). Dream11's ARPU in 2019 comes to ₹155 or $2.1 ($103M revenue÷50M users) which is lower than the CAC. In other words, their unit economics is negative.
However, there is an important point to note here. The ARPU has been calculated using the 2019 base of 50M total users. But like we discussed earlier, 33M of these users were added over the course of the year which means 2/3rds of Dream11's users in 2019 did not play the entire year. Hence their contribution to revenue was much lesser than the existing users (17M) and this dragged down the overall ARPU of the company. From next year, the revenue generated from these 50M existing users will be achieved without spending an additional pie (besides the fixed costs) - this is pure profit. Essentially, an existing user is profitable for Dream11 while a new user is not. As Dream11 reaches a stage where the inflow of new users in a year becomes less than the existing users, ARPU will surpass CAC and it will achieve profitability.
One more thing...
There is another advantage that Dream11 inherently has that will accelerate its path to profitability. Dream11 has a network effect baked into its business model (a concept investors love!). When a business has network effects, the value of its product or service increases as the number of users increases. The best example is Whatsapp. I don't have much reason to use Whatsapp if only a few people use it. But if everyone around me us using it, it makes more sense for me to use Whatsapp as my primary messaging app. The value of Whatsapp increases as more people use it.
Similarly, the value of Dream 11 increases as more users join it. That's because more users mean a larger number of participants in contests. And a larger number of contest participants means larger prize sizes. A chance to win larger prize sizes makes Dream11 more attractive to a user than other OFS platforms.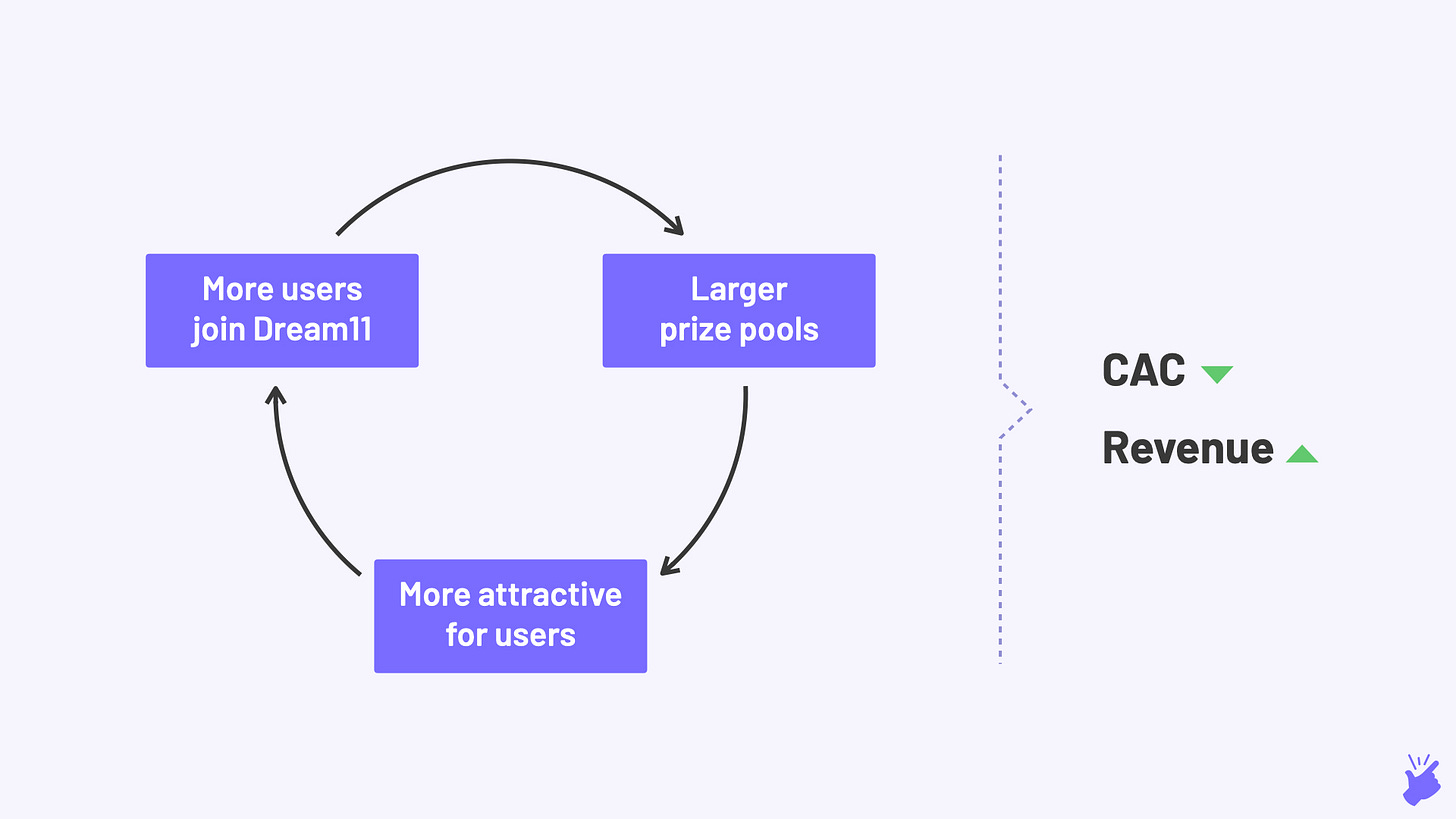 So when the platform is small (and hence lower prize money), the cost of acquiring a user will be pretty high. But as the user base rises (and the prize money too), the cost of acquiring a new user will fall as the large prize money contests will be enough to attract new users. In the case of Dream11, CAC has already come down from ₹5000 ($67) in 2012 to ₹237 ($3.2) in 2019. And this number will only fall further.
This network effect will also act as a barrier for users to switch to other platforms which will have lower prize money competitions. And as Dream11 grows further in size, most new users will prefer to join only Dream11 (as its prize money will grow further) hence making Dream11 a winner-take-all business.
Ciao!
---
If you liked this Simplanation, consider buying us a coffee 🙂
Due to payment gateway technicalities, we have to give different buttons for readers in India and readers in other countries.
---
More reads on the topic
INSIGHTS Podcast Series - INSIGHTS#33 Harsh Jain on building Dream11- India's biggest fantasy sports platform
The story of Dream1 narrated directly by Harsh Jain, its co-founder.

"50M users, is just product-market fit"- Harsh Jain, Dream11
An excellent note on Dream11's ambition by Vani Kola, an investor in the company

The evolving landscape of sports gaming in India
For the nerds - a 40-page report on the Indian OFS industry by KPMG