Discover more from Simplanations
Inner workings of business and tech explained in simple words. Join 8,000+ curious readers.
Over 10,000 subscribers
Author's Note
Much of what follows is not my original thought. This is my simplified understanding of what Kabeer (Cofounder, Dunzo) has said across different interviews and podcasts.
---
June 2017
Kabeer Biswas was finding it tough to raise funds for his 2-year-old upstart 'Dunzo'. He had anticipated a long fundraising process and had started having conversations with investors months before Dunzo was expected to run out of money. 85 meetings and the same number of 'NOs' later, Dunzo had run out of money but Kabeer was nowhere close to a signed cheque.
Why was Kabeer facing difficulty in raising funds? It wasn't his first fundraising effort for Dunzo. In fact, he had raised money, not once but twice, the previous year.
To answer that question, we need to understand the evolution of Dunzo's pitch to investors.
Dunzo Pitch 1.0
Dunzo's original pitch to investors was an app that would get things done on behalf of the user. You have a to-do list but no time to do it? Send the list to a Dunzo partner and he or she will strike tasks off the list one by one. In return, you pay a small fee for each task done.
Dunzo was your 'personal concierge' and it was in the business of 'saving time'. It was using this story that Kabeer raised money from Blume in March-16 ($650K) and Aspada in Oct-16 ($1.2M)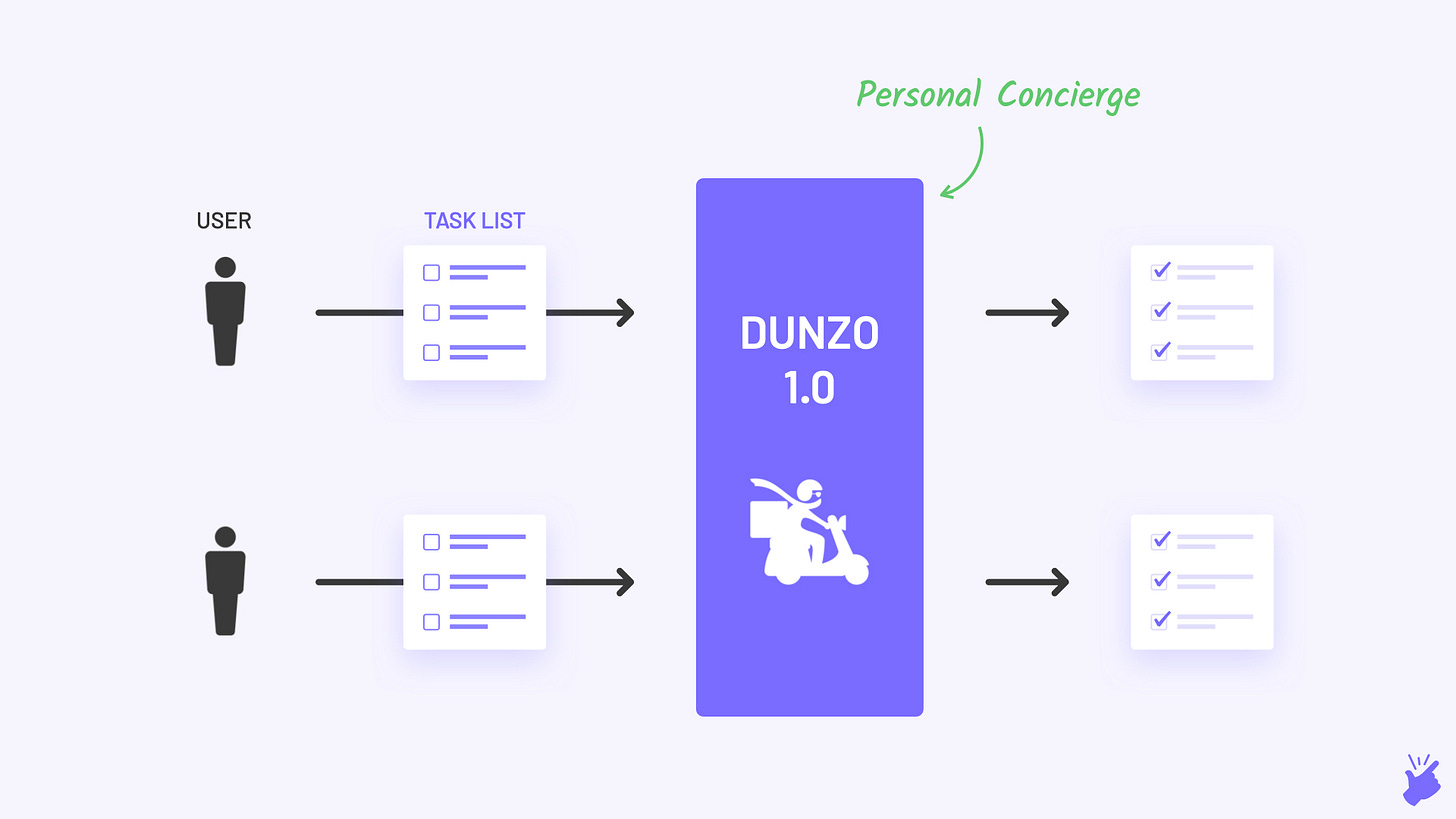 But this was not the story Kabeer was pitching in 2017.
Dunzo Pitch 2.0
Dunzo's new pitch was that it could enable any offline store in the city to fulfil orders that were coming from the online channel.
Previously, an offline store could serve only those customers visiting its shop. This obviously limited how much sales it could do. But now, the shop could 'list itself on the Dunzo app' or 'set up its own website with Dunzo integration in the background'. A person sitting anywhere in the city could place an order from that store. And Dunzo would deliver the product from the shop to the person. This meant the shop could now do more sales from the same location without having to expand.
One other implication of this was you didn't need to have a physical shop now. If you baked cakes at home and listed yourself on Dunzo, they would deliver your cakes to customers anywhere in the city.
What prompted the change in the story?
User behaviour. As a task completion app, Dunzo noticed most of its tasks were users asking the Dunzo partner to buy something on their behalf. They weren't just using it to pick up keys forgotten at a friends place. Dunzo was actually enabling buying and selling within a city, ie, local commerce.
From this new point of view, Dunzo was an 'on-demand logistics platform' and was in the business of 'enabling local commerce'. Dunzo was actually building a delivery layer for the offline world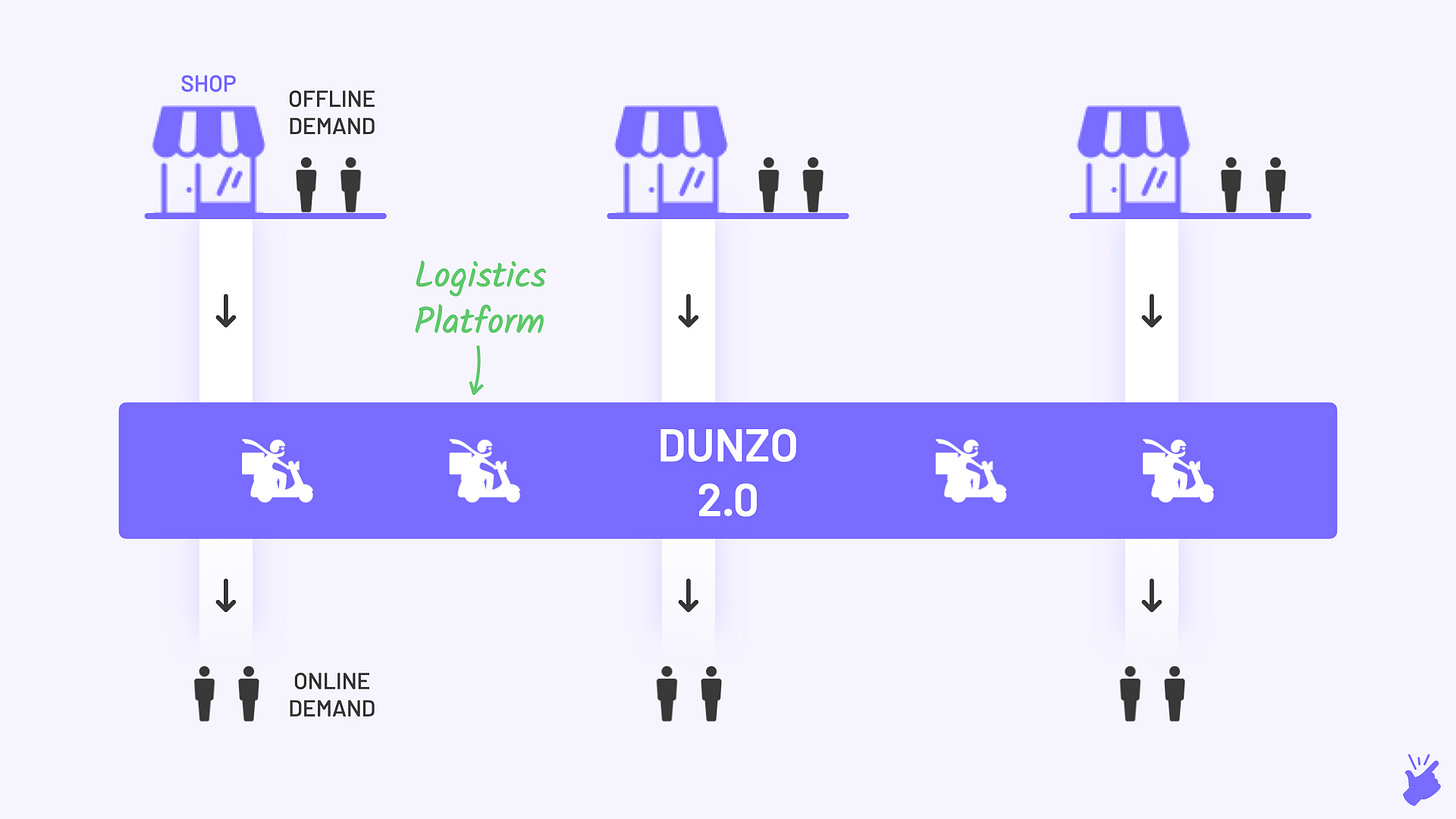 What were the implications of this change in positioning?
Much larger opportunity
Dunzo could drive a chunk of the local economy (the online part) and take a cut of that.

Better monetization strategy
Dunzo could now earn revenue not just from consumers (convenience fee) but also from merchants (fulfilment fee). This is important since Dunzo can earn enough without having to charge either party too much (both parties are very price sensitive)

A B2B opportunity
Many brands that use an online+offline strategy (Lenskart, Decathlon) could now add a "Checkout with Dunzo" option to their online ordering page. And they can get products delivered to customers within an hour. More revenue for Dunzo.

A change (for the better) in product UX
Now users did not create 'tasks' but placed 'orders' on the app. Dunzo partners weren't just asked to get apples. They were asked to get apples from 'X shop'. Shops were catalogued and all products listed on the app (better discovery). All the order information (quantity, type, address) were captured when placing the order instead of having a conversation with the partner like earlier (which was slower).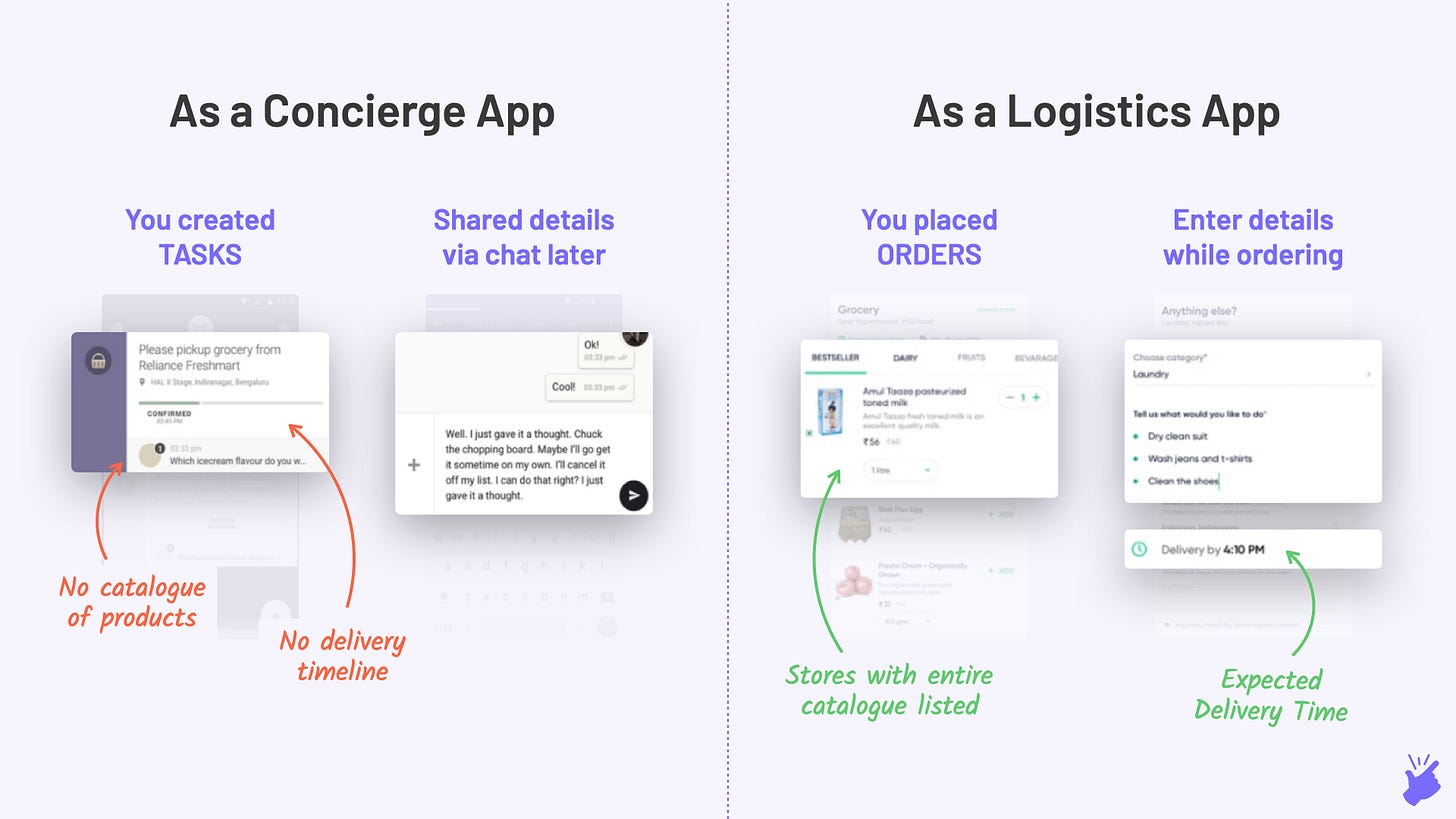 Well, if this was a larger business opportunity, why were investors saying no?
Because on-demand delivery businesses (also called 'hyperlocal') tend to lose a lot of money before turning profitable (if they ever do). Why does that happen? I don't have a short answer for this. So let's dive into another rabbit-hole.
There are essentially two types of participants in a business like Dunzo: 1) Users and 2) Delivery Partners. Each of these 2 participants has different incentives to join Dunzo.
Users (Demand) → Want faster delivery times

Delivery Partners (Supply) → Want higher earnings (they earn a fee per delivery)
The interesting thing is the two are connected creating a flywheel (see gif). So ensuring faster delivery times for users will attract more delivery partners (since there will be more users and more deliveries to make). And ensuring higher earnings for delivery partners will attract more users (since there will be more delivery partners and faster delivery times).
I have ignored the third participant (shops) in this explanation for 1) simplicity and 2) they don't need a strong incentive to join Dunzo (since listing themselves on the platform is free).
But this flywheel works only if there are enough users and delivery partners on the platform, ie, high demand and supply liquidity. Only then will the delivery times be short enough for users to be interested. And the number of deliveries be high enough for delivery partners to be interested. In other words, this business can only work at scale.
And that's where the problem lies. An upstart like Dunzo will not have enough users or delivery partners to attract either participant. A classic chicken & egg problem.
Business solve this by creating artificial liquidity on one side. It basically means Dunzo steps in and funds the incentive manually for one participant till the flywheel kicks and incentives take care of themselves. So you pay delivery partners well (regardless of no. of deliveries) until there are enough users (orders) for delivery partners to earn well enough by themselves. The first type of expense.
Over and above this, you'll need to have a product & tech team (to build the app), a customer service team, a marketing team (to grow demand), an operations team (handling delivery partners) and an office. So you will have expenses like salaries, rent, etc (called 'overheads'). The second type of expense.
The unfortunate nature of this business is that you will have to bear both types of expenses from the start (when revenue =0). You will lose money, probably a few crores (a few $M) every month till you reach a size where revenue from users and shops is high enough to fund your expenses.
And this was why investors were shying away from Dunzo (and fairly so). An investment in Dunzo could probably eat up the entire fund of many investors. Not Dunzo's mistake. It is just the nature of on-demand logistics businesses.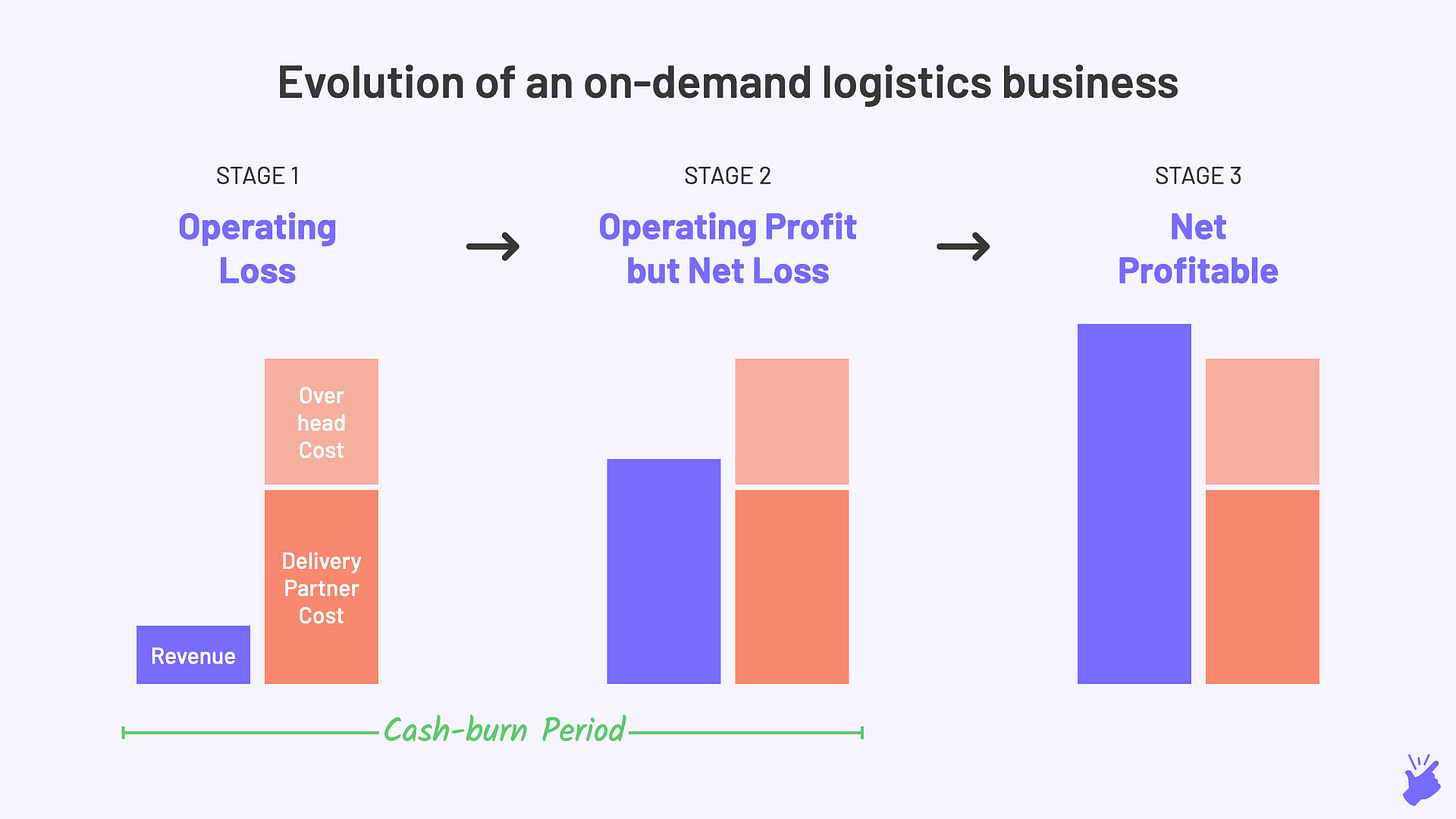 Back to June 2017
So, where were we? Oh yes, Dunzo had run out of money but Kabeer was nowhere close to a signed cheque. In response, the existing investors came together and wrote a $450K cheque (a bridge round). It was smaller than what Dunzo needed but enough to keep it alive and looking for funds.
The wait paid off. In Dec 2017, Google agreed to invest $12.3M (₹85cr) in Dunzo through a Series B round (I know, we are finally talking about Google). Who better than a deep-pocketed Google to fund such a high cash-burning business.
One thing worth noting though is that Google did not invest in Dunzo through its venture capital arm 'Google Capital'. It was a direct investment from Google, the search company. This meant the investment was more strategic in nature for Google than a purely financial one.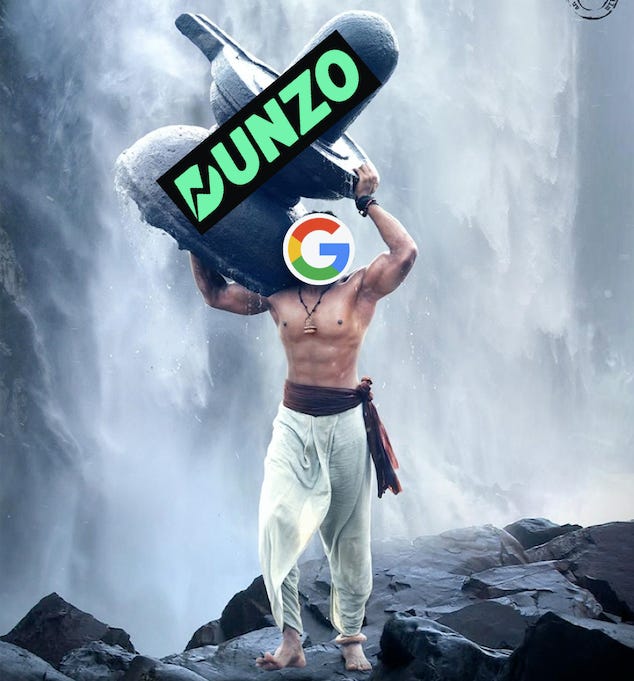 So why did Google directly invest in Dunzo?
Read on here in Part 2: The Conclusion.
---
If you liked this Simplanation, consider buying us a coffee 🙂
Due to payment gateway technicalities, we have to give different buttons for readers in India and readers in other countries.